Laura Otis to Deliver 2015 Dibner Lecture
November 19, 2015
News Release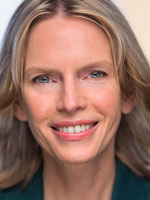 The Smithsonian Libraries will hold the 2015 Dibner Library Lecture Wednesday, Dec. 2, at 5 p.m. at the Smithsonian American Art Museum and National Portrait Gallery's Nan Tucker McEvoy Auditorium. The lecture is free and open to the public.
This year's guest lecturer is author Laura Otis, professor in the department of English at Emory University in Atlanta. At the Smithsonian Libraries event, Otis will speak on "The Fantastic World of Nineteenth-Century Women's Emotions: Two Literary Portrayals." For more event information, visit http://library.si.edu/event/2015-dibner-library-lecture.
Otis began her career as a scientist, earning a Bachelor of Science in molecular biophysics and biochemistry from Yale University, a Master of Arts in neuroscience from the University of California at San Francisco and a doctorate in comparative literature from Cornell University. Since 1986, she has been studying and teaching about the ways that scientific and literary thinking coincide and foster each other's growth. Otis has published Organic Memory: History and the Body in the Late Nineteenth and Early Twentieth Centuries (University of Nebraska Press, 1994), Membranes: Metaphors of Invasion in Nineteenth-Century Literature, Science, and Politics (Johns Hopkins University Press, 1999), Networking: Communicating with Bodies and Machines in the Nineteenth Century (University of Michigan Press, 2001) and Rethinking Thought: Inside the Minds of Creative Scientists and Artists (Oxford University Press, 2015). In 2000, she was awarded a MacArthur fellowship for creativity.
Begun in 1992, the Dibner Library Lectures feature a distinguished scholar who has made significant contributions to his or her field of study. Previous lecturers include British historian Richard Holmes and Harvard University professor Joyce E. Chaplin. Since 2000, the Dibner Library Lecture has become available in published form. The lectures are also posted online. The lecture series and its publication are made possible by the support of The Dibner Fund.
The Dibner Library of the History of Science and Technology, one of the Smithsonian Libraries' 21 locations, opened in October 1976. The library's core collection of 10,000 rare books and 1,600 manuscript groups came to the Smithsonian from the Burndy Library, founded by Bern Dibner in Norwalk, Conn., at the time of America's bicentennial celebrations. The collection includes premier scientific texts spanning the 13th to the early 20th centuries and has grown to form one of the cornerstones of the Smithsonian Libraries' collections. For almost 40 years, this library has provided vital primary sources to scholars, curators and members of the scientific community.
About the Smithsonian Libraries
The Smithsonian Libraries maintains a collection of more than 2 million volumes and serves as an educational resource for the Smithsonian Institution, the global research community and the public. The Libraries are located in Washington, D.C.; Edgewater, Md.; New York City; and the Republic of Panama. For more information, visit the Smithsonian Libraries website.
# # #
SI-538-2015