Kathy Butterly Is the 2012 Winner of the Smithsonian American Art Museum Contemporary Artist Award
November 5, 2012
News Release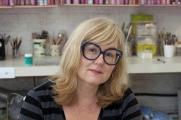 The Smithsonian American Art Museum announced today that Kathy Butterly is the 2012 winner of its Contemporary Artist Award. Butterly was selected by an independent panel of jurors who recognized Butterly as "an inventive and independent sculptor whose work reflects the fading boundary between craft and contemporary art." 
Butterly is the 10th winner of the $25,000 award, which recognizes an artist younger than 50 who has produced a significant body of work and consistently demonstrates exceptional creativity. It is intended to encourage the artist's future development and experimentation.  
"This year's winner is a bold choice; rewarding a ceramicist signals a welcome openness in today's contemporary art world," said Elizabeth Broun, The Margaret and Terry Stent Director of the Smithsonian American Art Museum. "Butterly's highly personal approach to materials and form creates a wonderfully provocative effect, like a secret sharing of her most private ideas and feelings." 
The winning artist is selected by a panel of distinguished jurors with an extensive knowledge of contemporary art. The five jurors who selected the 2012 winner are Monica Amor, professor of art history, theory and criticism at the Maryland Institute College of Art; Ian Berry, associate director for curatorial affairs and curator of The Frances Young Tang Teaching Museum and Art Gallery at Skidmore College; Irene Hofmann, director and chief curator at Site Santa Fe; James Nares, artist; and Alma Ruiz, senior curator at The Museum of Contemporary Art in Los Angeles.
The jurors wrote in their decision, "Butterly's voluptuous ceramic objects explode traditional conceptions of earthenware art through careful manipulation of the medium, resulting in unconventional forms, colors and surfaces. Her small, nuanced, labor-intensive sculptures are richly communicative and wildly imaginative. Each enigmatic work balances between humor and horror, seduction and repulsion, abstraction and figuration. Butterly masterfully harnesses these tensions to transform the familiar into something new and strange. She stands out as one of the most innovative artists of her generation."
Butterly creates intimate ceramic sculptures that explore the physical and emotional potential of clay. Her exquisitely glazed objects, which range from three to 10 inches high, resemble cartoonish forms based on the human body. The sculptures are often cast from mundane kitchen objects and then endowed with appendages such as bulging bellies, curvaceous bottoms and painted toes. Butterly's process is both painstaking and unorthodox. Often a single piece will be glazed and fired in the kiln as many as 20 times, resulting in a sensually colored surface that conveys as much as it conceals. Butterly is represented by Tibor de Nagy Gallery in New York City and the Shoshana Wayne Gallery in Santa Monica, Calif.
"The selection of Kathy Butterly for the 2012 Contemporary Artist Award provides inspiration and validation for the increasing number of artists today employing traditional craft practices in their work," said Joanna Marsh, The James Dicke Curator of Contemporary Art at the Smithsonian American Art Museum.
Butterly was born in 1963 in Amityville, N.Y. She received a bachelor's degree in fine arts (1986) from Moore College of Art in Philadelphia and earned a master's degree in fine arts (1990) from the University of California, Davis. Her work has steadily gained recognition in the United States, with recent solo exhibitions at the Shoshana Wayne Gallery, Tibor de Nagy Gallery and The Frances Young Tang Teaching Museum and Art Gallery at Skidmore College in Saratoga Springs, N.Y. She also has participated in numerous group exhibitions in the United States and abroad, including "Figuring Color" (2012) at the Institute of Contemporary Art in Boston, "Dirt on Delight: Impulses the Form Clay" (2009) at the Institute of Contemporary Art in Philadelphia and the Carnegie International (2004) at the Carnegie Museum of Art in Pittsburgh. Butterly's work is currently on view at the Shoshana Wayne Gallery in the solo exhibition "Lots of little love affairs."
Butterly was a 2011 recipient of the Pollock-Krasner Foundation Grant. Among other awards she has received are a Painters & Sculptors Grant from the Joan Mitchell Foundation (2009) and the Ellen P. Speyer Award from the National Academy of Art in New York City (2006).
In addition to Butterly, the 2012 nominees were Matthew Buckingham, Christina Fernandez, Amy Franceschini, Rachel Harrison, Oliver Herring, Glen Kaino, Sowon Kwon, Rubén Ortiz-Torres, Jaime Permuth, Will Ryman, Mary Simpson, Ryan Trecartin, Mark Tribe and Sara VanDerBeek. Marsh coordinated the jury panel selection as well as the nominating and selection process for the award.
The Smithsonian American Art Museum Contemporary Artist Award has been presented 10 times since 2001. Artists must be nominated by a juror to be considered for the award; there is no application. Previous winners were  Pierre Huyghe (2010); Mark Dion (2008); Jessica Stockholder (2007); Matthew Coolidge, director of the Center for Land Use Interpretation (2006); Andrea Zittel (2005); Kara Walker (2004); Rirkrit Tiravanija (2003); Liz Larner (2002); and Jorge Pardo (2001). The award is part of the museum's ongoing commitment to contemporary art and artists through annual exhibitions, acquisitions and public programs, and is supported by The James F. Dicke Endowment for Contemporary Art.
# # #
SI-478A-2012