"John Carter" Launches at Smithsonian IMAX Theater March 9
February 29, 2012
News Release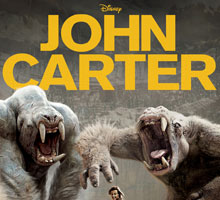 Smithsonian Theaters presents John Carter at the National Air and Space Museum's Airbus IMAX Theater at the Steven F. Udvar-Hazy Center in Chantilly, Va., March 9. The film will open with a 12:01 a.m. screening March 9. Attendees of the special midnight showing will receive a limited-edition commemorative poster from the film.
Based on a novel by Edgar Rice Burroughs, John Carter is an action-adventure film set on the exotic planet of Barsoom (Mars). Former military captain John Carter becomes reluctantly embroiled in a conflict of epic proportions amongst the inhabitants of the planet, including Tars Tarkas and the captivating Princess Dejah Thoris. In a world on the brink of collapse, Carter rediscovers his humanity when he realizes that the survival of Barsoom and its people rests in his hands.
The 133-minute, PG-13 rated film was directed by Academy Award–winning filmmaker Andrew Stanton, and features Taylor Kitsch, Willem Dafoe, Samantha Morton, Dominic West, Bryan Cranston and Thomas Hayden Church.
Individual tickets are on sale now for shows at the Airbus IMAX Theater. Tickets may be reserved and purchased up to two weeks in advance. Groups of 10 or more may reserve tickets now for any date during the film's run. The public may visit any Smithsonian Theaters box office, call toll-free (866) 868-7774 or visit www.si.edu/IMAX for information or to purchase tickets.
The Airbus IMAX Theater is located on the main floor of the Steven F. Udvar-Hazy Center at 14390 Air and Space Museum Parkway in Chantilly, Va. The theater's 75-by-62-foot screen is the largest in northern Virginia.
# # #
SI-99-2012