Jack the Giant Slayer Launches at Smithsonian IMAX Theaters March 1 and March 15
March 1, 2013
News Release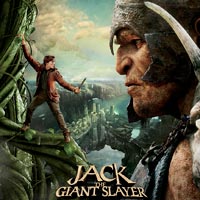 Warner Bros. and New Line Cinema's epic adventure film Jack the Giant Slayer will open at the Airbus IMAX Theater at the Steven F. Udvar-Hazy Center in Chantilly, Va., March 1 and in IMAX 3-D at the Samuel C. Johnson IMAX Theater at the National Museum of Natural History March 15. Tickets are on sale at www.si.edu/imax.
Jack the Giant Slayer has been digitally remastered into the image and sound quality of An IMAX Experience with proprietary IMAX Digital Re-Mastering technology. The crystal-clear images, coupled with IMAX's customized theater geometry and powerful digital audio, create a unique environment that will make audiences feel as if they are in the movie.
Jack the Giant Slayer tells the story of an ancient war that is reignited when a young farmhand unwittingly opens a gateway to the world of a fearsome race of giants. Unleashed on the Earth for the first time in centuries, the giants strive to reclaim the land they once lost, forcing the young man, Jack, into the battle of his life to stop them. Fighting for a kingdom, its people and the love of a brave princess, he comes face to face with the unstoppable warriors he thought only existed in legend—and gets the chance to become a legend himself.
The PG-13 rated film runs 115 minutes and is directed by Bryan Singer (X-Men) and stars Nicholas Hoult (X-Men: First Class) in the title role. The film also stars Eleanor Tomlinson as Princess Isabelle; Stanley Tucci (Captain America: The First Avenger) as the deceitful Lord Roderick; Ian McShane (Pirates of the Caribbean: On Stranger Tides, HBO's Deadwood) as the besieged King Brahmwell; Bill Nighy (Harry Potter and the Deathly Hallows) as the giants' leader, General Fallon; and Ewan McGregor (Star Wars, The Ghost Writer) as palace guard Elmont.
Tickets are now available. Individuals may reserve and purchase tickets up to two weeks in advance. The public may visit any Smithsonian Theaters box office, call (866) 868-7774 or visit www.si.edu/IMAX for information and to purchase tickets.
The Airbus IMAX Theater is located on the main floor of the Steven F. Udvar-Hazy Center at 14390 Air and Space Museum Parkway in Chantilly, Va. The theater's 86-by-63-foot screen is the largest in northern Virginia. The Johnson IMAX Theater is located on the first floor of the National Museum of Natural History at 10th Street and Constitution Avenue N.W. The theater's 84-by-61-foot screen is the biggest movie screen in Washington, D.C.
# # #
SI-76-2013