IMAX Launches Institutional Upgrade Initiative; Signs Agreement with Smithsonian for Next-Generation Laser Technology
Smithsonian's Three IMAX® Theatres to be Capable of Showing Full Spectrum of IMAX Content
January 15, 2013
News Release
Addthis Share Tools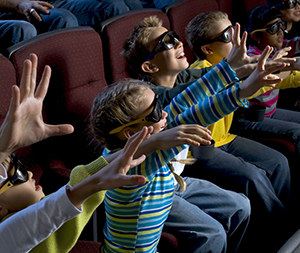 IMAX Corporation (NYSE:IMAX; TSX:IMX) and the Smithsonian Institution today announced an agreement to install IMAX's next-generation laser digital projection technology in the Smithsonian's three IMAX® theatres, enabling the Smithsonian to deliver the highest-quality digital content available – both documentaries and blockbuster films – and further enhance The IMAX Experience® for its millions of visitors annually.

Under the terms of the agreement, the Samuel C. Johnson IMAX Theater at the National Museum of Natural History and the Lockheed Martin IMAX Theater at the National Air and Space Museum, both in Washington, D.C., and the Airbus IMAX Theater at the Steven F. Udvar-Hazy Center in Chantilly, Va., will transition to IMAX's laser digital projectors in 2014.

IMAX's next-generation projection system is expected to set a new benchmark as the industry's premium entertainment experience. The system, which incorporates the laser digital intellectual property IMAX exclusively licensed from Eastman Kodak in 2011, represents the largest R&D initiative in IMAX's history and will enable IMAX® dome theatres and IMAX screens larger than 80 feet to deliver the highest-quality digital content available with greater brightness and clarity, a wider color gamut and deeper blacks.

"Building on our shared legacy of excellence and discovery, we're delighted that the Smithsonian has adopted this new technology, acting as a springboard for our institutional partners globally," said IMAX CEO Richard L. Gelfond. "For over 35 years, our partnership with the Smithsonian has served as the gold standard in delivering immersive entertainment experiences that educate, inspire and showcase the wonders of our world. We believe the new laser digital projection system will usher in a new era of quality and innovation in projection technology and allow museum-goers to experience their favorite documentaries and blockbusters as never before."

Since the National Air and Space Museum opened its doors to visitors in 1976, the Smithsonian/IMAX partnership has delivered exceptional-quality and critically acclaimed documentaries and world-class entertainment to millions.   The partnership also has funded and produced groundbreaking IMAX® documentaries including The Dream is Alive, Blue Planet, Destiny in Space (with Lockheed Martin Corporation), and Cosmic Voyage (with Motorola).

"Laser digital projection offers our visitors a more immersive and visceral experience, as well as more programming opportunities," said Christopher A. Liedel, President, Smithsonian Enterprises.  "Today's agreement continues our decades-long partnership with IMAX and strengthens our commitment to delivering the best educational and entertainment experience."
About The Smithsonian
The Smithsonian Institution, established in 1846 "for the increase and diffusion of knowledge", is the world's largest museum and research complex, consisting of 19 museums and galleries, the National Zoological Park and nine research facilities.  The Smithsonian Institution holds a collection of 137 million items, and has facilities in Arizona, Maryland, New York City, Virginia, Washington DC, and Panama, and 168 other museums are Smithsonian affiliates. The Institution's thirty million annual visitors are admitted without charge; funding comes from the Institution's own endowment, private and corporate contributions, membership dues, government support, and retail, including the three IMAX theaters, concession and licensing revenues.  Institution publications include Smithsonian and Air and Space magazines.
About IMAX Corporation
IMAX, an innovator in entertainment technology, combines proprietary software, architecture and equipment to create experiences that take you beyond the edge of your seat to a world you've never imagined. Top filmmakers and studios are utilizing IMAX theatres to connect with audiences in extraordinary ways, and, as such, IMAX's network is among the most important and successful theatrical distribution platforms for major event films around the globe.

IMAX is headquartered in New York, Toronto and Los Angeles, with offices in London, Tokyo, Shanghai and Beijing.  As of Sept. 30, 2012, there were 689 IMAX theatres (556 commercial multiplex, 20 commercial destination and 113 institutional) in 52 countries.

IMAX®, IMAX® 3D, IMAX DMR®, Experience It In IMAX®, An IMAX 3D Experience®, The IMAX Experience® and IMAX Is Believing® are trademarks of IMAX Corporation. More information about the Company can be found at www.imax.com. You may also connect with IMAX on Facebook (www.facebook.com/imax), Twitter (www.twitter.com/imax) and YouTube (www.youtube.com/imaxmovies).
# # #

This press release contains forward looking statements that are based on IMAX management's assumptions and existing information and involve certain risks and uncertainties which could cause actual results to differ materially from future results expressed or implied by such forward looking statements. These risks and uncertainties are discussed in IMAX's most recent Annual Report on Form 10-K and most recent Quarterly Reports on Form 10-Q.