"History, Rebellion and Reconciliation" Symposium Examines Race, Justice and Community Activism
Panels, Films and Discussions Will Be Held April 25, 9:45 a.m. to 8:30 p.m.
April 8, 2015
News Release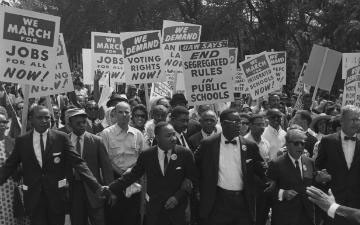 A police shooting of an unarmed black man in Ferguson, Mo., this summer, along with other shootings by police officers around the country, led to weeks of protests in communities around the country. The Smithsonian's National Museum of African American History and Culture (NMAAHC) will join the national conversation by hosting a daylong symposium titled, "History, Rebellion and Reconciliation: Communities Mobilized for Social Change."
The program will be held in the Rasmuson Theater in the Smithsonian's National Museum of the American Indian (Independence Avenue at Fourth Street S.W.) from 9:45 a.m. to 8:30 p.m. Admission is free and open to the public; however, seating is on a first-come, first-served basis and reservations are recommended at (202) 633-0070 or nmaahc.si.edu.
"We need to explore what this moment in our nation's history means, especially in terms of leadership," said Lonnie Bunch III, the director of NMAAHC. "What impact does generational change have on leadership and faith communities? What are the lessons to be learned from Ferguson, particularly within the context of community mobilization?"
Bunch will open the symposium and welcome guests at 9:45 a.m., followed by a discussion with Rev. Willis H. Johnson, pastor of Ferguson's Wellspring Church. Willis will describe the conditions that led to the distrust between law enforcement and the city's African American community.
The symposium will consist of three panels, one each in the morning, afternoon and evening. The first panel, "Ferguson: Impact, Importance & Long-Range Hopes," from 10 a.m. to 12:30 p.m., will explore the evolution of the media, community leadership and activism as they relate to communities organized against excessive police force and economic inequality. This panel will be moderated by Juan Williams, journalist and Fox News political analyst. Panelists include:
Lisa Crooms, Howard University law professor
Rev. F. Willis Johnson Jr., Wellspring Church
Mychal Denzel Smith, contributing writer, The Nation
The second panel, "Ferguson & Faith in the 21st Century," from 2 to 4:30 p.m., addresses the past, present and future roles of faith organizations as advocates for social change. It also examines changing roles of faith leaders and the range of their focus. Moderated by Rex Ellis, NMAAHC associate director of curatorial affairs, the panel includes:
Jeff Johnson, journalist and motivational speaker
Renee Harrison, Howard University School of Divinity professor and former Los Angeles police officer
Rev. Osagyefo Uhuru Sekou, pastor, theologian, author and community organizer
The final panel, "#Words Matter: Making Revolution Irresistible," from 6 to 8:30 p.m., features the response of the creative community to excessive police violence, racism and communal demands for equality. The panel, moderated by Morgan State University professor Jared Ball, includes:
Mark Bolden, psychologist and co-moderator
Jasiri X, rapper and community activist
Jamilah Lemieux, senior digital editor, Ebony magazine
Jef Tate: DJ, Words, Beats and Life
In addition to the panels, the symposium will also present "Citizen" works by award-winning poet Claudia Rankine, interpreted on film by director John Lucas from 12:30 to 1:30 p.m. The film shorts, titled Situation #1through 5, are based on Rankine's book Citizen: An American Lyric, which is a National Book Award Finalist for 2014.
From 1:30 to 2:30 p.m., the symposium will present "On Art and History: A Conversation with Ava DuVernay." With Selma, DuVernay is the first black female director to have a film nominated for an Academy Award. She will discuss filmmaking and the creative responses to historic events such as the Selma to Montgomery march.
From 5 to 6 p.m., guests at the symposium can view a slide presentation of social justice related objects from the museum's collection and select artists, accompanied by a mix from DJ Jef Tate of "Words, Beats and Life."
In an effort to engage audiences beyond the walls of the Smithsonian, the daylong symposium will be available by livestream through a link on the museum's website. The museum will also participate in dialogue on social media throughout the symposium. The public may follow the museum on Twitter @NMAAHC to participate in the discussion using #HRRlive or #WordsMatter. 
For more information, visit nmaahc.si.edu or call (202) 633-1000.
The National Museum of African American History and Culture was established by an act of Congress in 2003 making it the 19th museum of the Smithsonian Institution. Scheduled for completion in 2016, it is being built on the National Mall in Washington, D.C., on a five-acre tract adjacent to the Washington Monument. 
# # #
SI-157-2015