Hirshhorn Presents "Suprasensorial: Experiments in Light, Color, and Space"
Five Immersive Large-Scale Installations by Latin American Artists Expand the History and Perception of Light and Space Art
January 19, 2012
News Release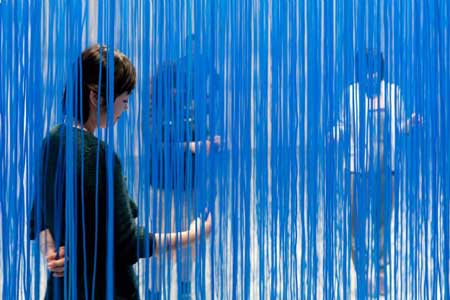 The Hirshhorn presents "Suprasensorial: Experiments in Light, Color, and Space," an exhibition that reconsiders the role played by major Latin American artists in the development of installation art centered on activating space through light and color. On view from Feb. 23 until May 13, 2012, "Suprasensorial" features five large-scale, populist, participatory works by Lucio Fontana (Italian, b. Rosario, Argentina, 1899–1968), Julio Le Parc (French, b. Mendoza, Argentina, 1928; lives in Paris), Carlos Cruz-Diez (French, b. Caracas, Venezuela, 1923; lives in Paris), Jesús Rafael Soto (French, b. Ciudad Bolívar, Venezuela, 1923–2005), and Hélio Oiticica (Brazilian, b. Rio de Janeiro, 1937–1980), who collaborated with Neville D'Almeida (Brazilian, b. Belo Horizonte, 1941). Working internationally, these artists independently anticipated and paralleled developments in Light and Space art, a movement usually associated with California in the 1960s and 1970s.
Although these artists continued to pursue avant-garde work in traditional media such as painting and sculpture, they were committed to making art that did not perpetuate notions of "high culture" that often served to keep the public at arm's length. The "Suprasensorial" artists' formal and social motives were inextricably intertwined. By choosing as their materials light, color and space—basic elements of perception already familiar to a general audience—and configuring them in ways that required participation from the viewer, they effected a significant change in the customary dynamic of looking at art.
Fontana's "Neon Structure for the IX Triennale of Milan" (1951, refabricated 2010) banishes traditional sculptural requirements of mass, weight and solidity. Suspended from the ceiling, its graceful neon swirls suggest a kind of luminous drawing hovering in midair. In the initial installation, Fontana hung the piece over a staircase, so viewers would be in motion as they took it in, with each step offering a different vantage point. At the Hirshhorn, the work is installed in the escalator lobby on the third level. Viewers still rise toward the static piece, but now they control whether their progress is stepwise or smooth, ambulatory or cinematic.
Le Parc's "Light in Movement" (1962, refabricated 2010) invites visitors into the space the work carves out for itself. In a semi-circular room whose flat side is covered in mirrors and whose curved side is painted white, a panel of dangling, highly polished metal squares is mounted against the mirrors and illuminated by spotlights. Bright, intersecting arcs of light bounce off the squares, which flutter in the shifting air currents as people come and go, and shine on the curved wall, which is reflected by the mirrors. The space seems to expand into a glittering cylinder.
Cruz-Diez's "Chromosaturation" (1965, refabricated 2010)—soon to be a joint purchase by the Hirshhorn and the Museum of Contemporary Art, Los Angeles—destabilizes space not with mirrors and movement but with color. Viewers explore three small rooms, each lit with a single hue (blue, magenta or green). Beautiful and disorienting, the piece comes into full flower at its edges and overlappings, where colors contrast sharply or bleed almost imperceptibly into one another. As the artist explained to Hirshhorn senior curator Valerie Fletcher, the environment is constructed from mundane materials (drywall, paint, fluorescent lights, colored plastic), but its reality lies in "a vibrant, energized experience" contingent on visitors' willingness and ability to perceive "the marvelous."
Soto's "Blue Penetrable BBL" (1999) introduces the sense of touch into the experience of immersion. Thousands of bright blue nylon strings dangle from a monumental steel frame, creating an open-walled room whose habitable space has been both interrupted and made visible as an undulating field of color. The visitor moves slowly among the soft strands, which sweep gently against face and body at the same time that they slice light into slivers on the floor.
Oiticica and D'Almeida's "Cosmococa No. 1: Trashiscapes" (1973, refabricated 2010) offers a respite of sorts. Futons on the floor invite the public to relax and be sociable. Emery boards are scattered about so visitors may tone up their manicures. Meanwhile projectors cast images on the walls that spill onto the floor and ceiling. Among the subjects projected are lines of cocaine, an expression of personal liberation. A cacophonous soundtrack of rock music and incomprehensible spoken-word performances fills the room.
It was Oiticica who coined the term "suprasensorial," using it to refer to experiences that transcend what is ordinarily thought of as "aesthetic." Although the "Suprasensorial" artists have been recognized for their contributions to Spatialism (Fontana), Light art (Le Parc), Kinetic and Op art (Cruz-Diez and Soto), and Concrete and Neo-Concrete art (Oiticica and D'Almeida), the current exhibition links them to international currents that place the viewer in an active role that involves both the eye and the body. Here, not only the effectiveness of an artwork but also its very existence is contingent on the participation of the people who perceive it. "Suprasensorial: Experiments in Light, Color, and Space" is organized by The Museum of Contemporary Art, Los Angeles. It was organized by MOCA senior curator Alma Ruiz, and the Hirshhorn's presentation is coordinated by senior curator Valerie Fletcher.
The presentation of the exhibition at the Hirshhorn received federal support from the Latino Initiatives Pool, administered by the Smithsonian Latino Center. Additional support was provided by the David Bermant Foundation, and funding for the exhibition brochure was provided by the Embassy of Brazil.
The presentation of the exhibition at MOCA was sponsored by Fundación/Colección Jumex. Major support was provided by The Andy Warhol Foundation for the Visual Arts and Mandy and Cliff Einstein. Generous additional support was provided by Betye Monell Burton, France Los Angeles Exchange (FLAX Foundation), Kathi and Gary Cypres, and the Consulate General of Brazil, Los Angeles.
Related Programs
The Hirshhorn offers a range of interactive educational experiences designed to engage people of all interest levels in contemporary art. On Feb. 23 at 7 p.m., "Suprasensorial" artists and their representatives join curators Ruiz and Fletcher to discuss the works on view. On March 1 at 7 p.m., Fletcher leads an interactive tour of the exhibition. On April 19 at 7 p.m., art theorist, artist, critic, and educator Luis Camnitzer speaks about the challenges facing Latin American artists working abroad, offering insight into the cultural contexts that shaped the artists in the exhibition. Artists and other experts address "Suprasensorial" in depth in several of the weekly Friday Gallery Talks; consult hirshhorn.si.edu for a complete schedule. The museum's ever-expanding library of podcasts makes gallery walk-throughs and interviews with artists accessible internationally.
About the Hirshhorn
The Hirshhorn Museum and Sculpture Garden, the Smithsonian Institution's museum of international modern and contemporary art, has nearly 12,000 paintings, sculptures, photographs, mixed-media installations, works on paper and new media works in its collection. The Hirshhorn presents diverse exhibitions and offers an array of public programs that explore modern and contemporary art. Located at Independence Avenue and 7th Street S.W., the museum is open daily from 10 a.m. to 5:30 p.m. (except Dec. 25). Admission to the galleries and special programs is free. For more information about exhibitions and events, visit hirshhorn.si.edu. Follow the Hirshhorn on Facebook at facebook.com/hirshhorn and on Twitter at twitter.com/hirshhorn. To request accessibility services, please contact Kristy Maruca at marucak@si.edu or (202) 633-2796, preferably two weeks in advance.
# # #
SI-19A-2012