Hirshhorn Presents "Black Box: Nira Pereg"
Israeli Video Artist's Projections Transform the Everyday into Dramatic Scenarios
July 20, 2011
News Release
Addthis Share Tools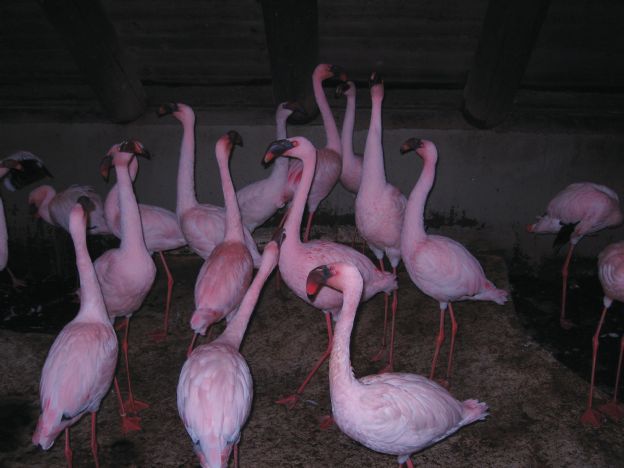 The Smithsonian's Hirshhorn Museum and Sculpture Garden's popular Black Box series has brought a diverse range of international film and video works to Washington for more than five years. The upcoming installation, on view Aug. 22–November 2011, features the work of Nira Pereg (Israeli, b. Tel Aviv, 1969), who creates documentary-based video projections that transform everyday occurrences into dramatic scenarios. "67 Bows" (2006), inspired by the artist's visits to the Karlsruhe Zoo in Germany, demonstrates that transformation with disquieting effect.
For this piece, Pereg spent time studying a flock of the zoo's flamingos. She discovered particular qualities in the behavior of individual birds by setting up situations in which group responses were expected. Employing various camera angles, the artist offers sumptuous close-ups of these exotic animals calmly going about their instinctual business. Over the muffled noise of the birds' squawks and clucks, she adds a provocative soundtrack of intermittent, startling noises, implying human disturbance of their peaceful realm. The result evokes a sense of suspense in the viewer, while calling into question the relationship between what is seen and heard.
Pereg studied and worked in New York City during the 1990s and is currently an Innovator-in-Residence at the University of California, San Diego. A monograph of her work, which has been exhibited and collected worldwide, is being published this year by the Tel Aviv Museum of Art.
Black Box
Since 2005, Black Box has featured work by emerging and established artists and artist collectives, including Francis Alÿs, Phoebe Greenberg, Kimsooja, Rivane Neuenschwander, Hans Op de Beeck, Semiconductor, Superflex and Guido van der Werve, among others. The artists represent a broad range of nations and approaches to new media. Black Box is organized by associate curator Kelly Gordon. Support for the Black Box program is provided in part by Lawrence A. Cohen/Ringler Associates.
Related Programming
The Hirshhorn offers a range of interactive educational experiences designed to engage people of all interest levels in contemporary art. Friday Gallery Talks are informal weekly lunchtime discussions led by artists and scholars that focus on one work in depth. The museum's ever-expanding library of podcasts (featured on iTunes in the top 100 Arts and Entertainment podcasts) makes gallery talks and interviews with artists accessible internationally.
About the Hirshhorn
The Hirshhorn Museum and Sculpture Garden, the Smithsonian Institution's museum of international modern and contemporary art, has nearly 12,000 paintings, sculptures, photographs, mixed-media installations, works on paper and new media works in its collection. The Hirshhorn presents diverse exhibitions and offers an array of public programs that explore the art of our time. Located at Independence Avenue and Seventh Street S.W., the museum is open daily from 10 a.m. to 5:30 p.m. (except Dec. 25). Admission to the galleries and special programs is free. For more information about exhibitions and events, visit hirshhorn.si.edu. To request accessibility services, contact Kristy Maruca at marucak@si.edu or (202) 633-2796, preferably two weeks in advance.
# # #
SI-320-2011