Free Band Concerts and Events Are "Staycation" Highlights at the National Air and Space Museum's Steven F. Udvar-Hazy Center
May 16, 2013
News Release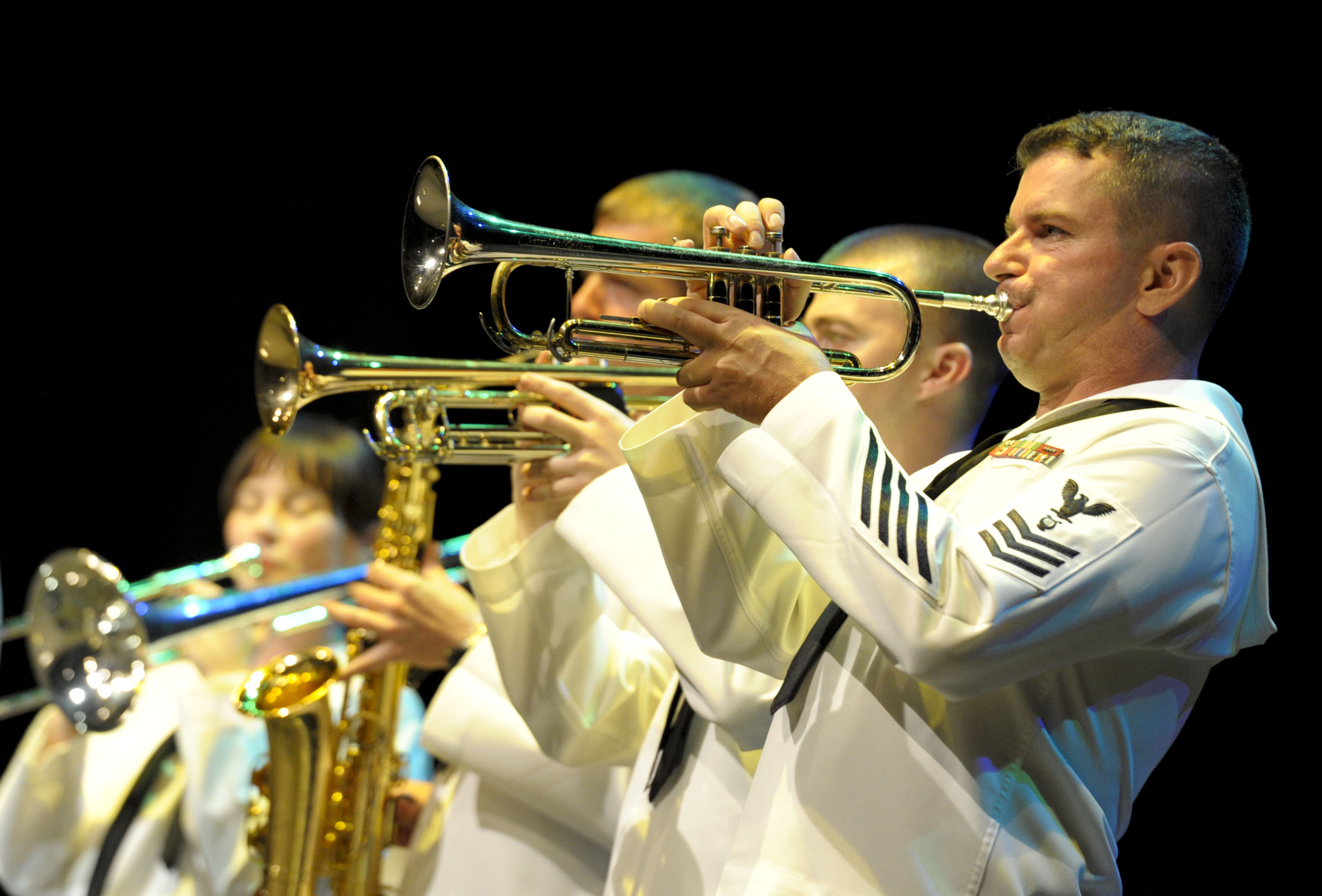 Planning an upcoming "staycation" this summer? The National Air and Space Museum's Steven F. Udvar-Hazy Center in Chantilly, Va., is offering special activities, all free of charge. For the first time, the museum will present outdoor band concerts and family events as well as special deals on theater tickets and simulator rides.
The new summer concert series will take place on the fourth Sunday of the month, from Memorial Day until Labor Day, from 6 to 7 p.m. Guests may watch performances from a sloping stretch of grassy lawn leading down to the performance area in front of the Udvar-Hazy Center.
Concert Series Schedule
Sunday, May 26: U.S. Navy Band, the Commodores
Sunday, June 23: U.S. Army Field Band Chamber Brass
Sunday, July 28: Loudon Jazz Ensemble
Sunday, Aug. 25: Quantico Marine Corps Rock Band
Tickets are not required and parking is free after 4 p.m. Audience members will be invited to bring picnic snacks and blankets or lawn chairs but may not be permitted to bring them inside the museum. Pets are prohibited. Concerts will be held inside the museum if it rains. For more information about the summer concerts, visit: http://airandspace.si.edu/events/. The series is made possible by the support of The Claude Moore Charitable Foundation.
Super Science Saturdays will take place the second Saturday of each month. From 10 a.m. until 3 p.m., displays throughout the museum will explore special themes in child-friendly ways. Through demonstrations and hands-on activities, visitors of all ages will become immersed in science, technology, engineering and mathematics topics related to aviation and space exploration.
Super Science Saturday Schedule
Saturday, June 8: Energy
Saturday, July 13: Weather
Saturday, Aug. 10: Helicopters
The Super Science Saturday series is made possible by the support of FBR. One of the museum's most popular annual activities, "Become a Pilot Day" will take place June 15 from 10 a.m. until 3 p.m. The event will feature nearly 50 visiting vintage, recreation, military and home-built aircraft. Major support for this year's event is made possible by Booz Allen Hamilton and AFCEA International and the Washington Metro Chapters.
The Steven F. Udvar-Hazy Center will also offer special summer promotions at the Airbus IMAX Theater and simulator rides. In June, visitors will receive a free bottle of water or soda with any popcorn purchase. They will have the opportunity to purchase up to four adult or senior-priced tickets for non-Hollywood films at the youth rate in July. In August, visitors will receive $1 off one simulator ride or $2 off the simulator combo (one of each type of simulator).
The National Air and Space Museum's Steven F. Udvar-Hazy Center is located in Chantilly, Va., near Washington Dulles International Airport. The museum building on the National Mall in Washington, D.C., is located at Sixth Street and Independence Avenue S.W. Both facilities are open daily from 10 a.m. until 5:30 p.m. (closed Dec. 25). Summer hours are from 10 a.m. until 7:30 p.m. and in effect from Memorial Day to Labor Day. Admission is free, but there is a $15 fee for parking before 4 p.m. at the Udvar-Hazy Center.
# # #
SI-196-2013