Former Royal Crown Jeweler David Thomas at Smithsonian Associates Event
Thomas Will Discuss the Splendor, Symbols and Power of Britain's Crown Jewels
October 30, 2013
News Release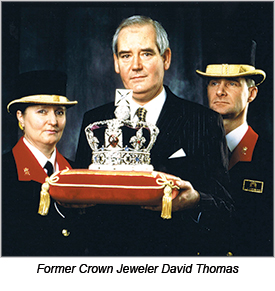 The Smithsonian Associates presents a day with Britain's former royal crown jeweler, David Thomas, Saturday, Nov. 23, from 10 a.m. to 4:30 p.m. in Baird Auditorium at the Smithsonian's National Museum of Natural History. Through an illustrated talk, Thomas will discuss the history of the Tower of London's Jewel House; the role and responsibilities of the crown jeweler; the crowns, gems and silver that make up the collection, known as the regalia; and insights into items in the private collection of Queen Elizabeth II.
Only a single person other than the monarch is allowed to touch the crown jewels. During his tenure as royal crown jeweler from 1991 to 2007, Thomas was the man entrusted with that obligation and honor. He designed the wedding rings for Diana Spencer and Prince Charles, and he was Diana's personal jeweler until the day she died. He formed a very close relationship with the Royal Family and was appointed Britain's royal crown jeweler by the Queen in 1991.
The British crown jewels symbolize the sovereign's power and a nation's royal heritage. Housed since the early 14th century in the Jewel House at the Tower of London, the jewels include the crowns of sovereigns, consorts and Princes of Wales past and present, as well as scepters, orbs, rings, swords, spurs, bracelets and robes, all of which have a specific part to play in the ritual of the English coronation service. Participants will spend the day exploring the history, symbolism and splendor of these treasures.
Ticket prices for the Smithsonian Associates' seminar are $135 for general admission and $105 for Associate members. Participants provide their own lunch. For tickets and information, the public may call (202) 633-3030 or visit www.smithsonianassociates.org.
The Smithsonian Associates offers life-enriching, educational and cultural experiences inspired by the Smithsonian's exhibitions, collections and research. Each year The Smithsonian Associates creates and presents more than 750 individual programs that deliver exceptional opportunities for learning and growth. Programs range from lectures on a multitude of topics to the performing arts for audiences of all ages, in the Washington, D.C., area and across the country.
# # #
SI-436-2013