"Fly Marines! The Centennial of Marine Corps Aviation: 1912-2012" Opens at the National Air and Space Museum
January 11, 2012
News Release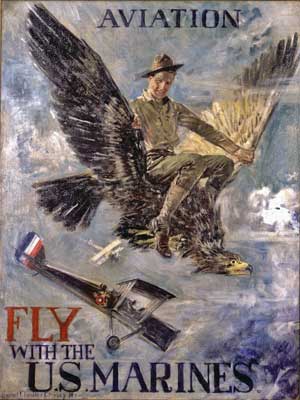 The Smithsonian's National Air and Space Museum will present "Fly Marines! The Centennial of Marine Corps Aviation: 1912-2012," an exhibition consisting of 91 works of art selected from the Marine Corps Art Program. Originally established as the Marine Corps Combat Art Program in 1942 to "keep Americans informed about what 'their Marines' were doing at home and overseas," the collection now consists of more than 8,000 works and is managed by the National Museum of the Marine Corps, which partnered with the National Air and Space Museum to produce the exhibition. The year-long exhibition, which coincides with the national observance of the centennial, opens Jan. 14.
The works on display range from art for recruitment posters to works by master aviation artists R.G. Smith and Keith Ferris, who painted the mural "Fortresses Under Fire" that serves as a backdrop for the museum's World War II gallery, as well as Robert McCall, better known for his aerospace art and his murals at the entrance of the museum. Subject matter includes important historical moments, portraits of key figures and combat scenes—many painted by participants who witnessed the events. John Glenn, one of the best-known marine aviators, is featured in two portraits—a canvas by Bruce Stevenson that shows him as a young Mercury astronaut and a watercolor by Henry Casselli of him as part of the STS-95 crew—as well as a bronze bust from 1968 by Felix W. De Weldon, the sculptor who created the Iwo Jima Memorial.
The exhibition traces the history of Marine Corps aviation from its origins, starting with the poster art for "Fly with the U.S. Marines" (1920) by leading American artist and illustrator Howard Chandler Christy and a depiction of the first Marine aviator, Lt. Alfred A. Cunningham, flying a Wright B-1 float plane in 1912 by Col. Horace Avery Chenoweth, U.S. Marine Corps Reserve. It includes scenes of combat from World War I up to the conflict in Afghanistan, as well as objects from the collections of both museums that provide human and historical context, such as uniforms, squadron patches and flight suits.
The National Air and Space Museum building on the National Mall in Washington, D.C., is located at Sixth Street and Independence Avenue S.W. The museum's Steven F. Udvar-Hazy Center is located in Chantilly, Va., near Washington Dulles International Airport. Both facilities are open daily from 10 a.m. until 5:30 p.m. (closed Dec. 25). Admission is free, but there is a $15 fee for parking at the Udvar-Hazy Center.
# # #
SI-9-2012