Experience "Campus and Community" at the 2012 Smithsonian Folklife Festival
June 20, 2012
News Release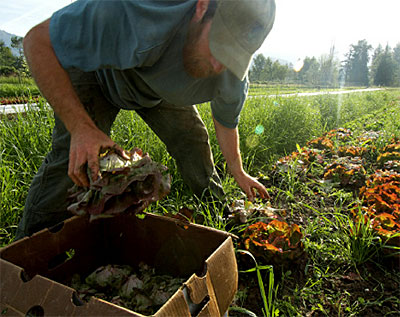 In 1862, President Abraham Lincoln signed legislation to establish the land-grant university system and the U.S. Department of Agriculture. Today, the land-grant mission of "knowledge with public purpose," is evident in research, learning and community engagement projects that make the world safer, healthier and more sustainable. The 2012 Folklife Festival program "Campus and Community: Public and Land-grant Universities and the USDA at 150" celebrates 150 years of partnership among universities, the USDA and communities.
The Festival takes place Wednesday, June 27, through Sunday, July 1, and Wednesday, July 4, through Sunday, July 8, outdoors on the National Mall between Seventh and 14th streets. All events are free. Festival hours are 11 a.m. to 5:30 p.m. each day, with special evening events such as concerts and dance parties beginning at 6 p.m. The Festival is co-sponsored by the National Park Service.
"Campus and Community" will focus on four themes that reflect the current work of public and land-grant universities and the USDA: reinventing agriculture, sustainable solutions, transforming communities and building on tradition. Each theme area of the program will allow visitors to interact with university and USDA staff, professors, students and community members highlighting exciting research and engagement projects.
More than 20 land-grant and public universities will participate in this year's Festival and each will provide programs related to the four themes. In Smithsonian U, visitors can listen to short informative talks by master teachers, such as paleontologists from Montana State University who will discuss their work with dinosaur fossils. In the Test Kitchen, visitors can watch cooking demonstrations using ingredients raised or researched at the universities, including maple syrup from the University of Vermont and surimi from Oregon State University. In the Commons, an area promoting dialogue about important issues affecting universities, the USDA and communities will highlight programs such as Mississippi State University's mobile veterinary unit, which provides free spay and neuter services to animal shelters to alleviate the issue of pet overpopulation that costs taxpayers billions of dollars each year. The Justin S. Morrill Performing Arts Center will showcase world-class music and dance performances from groups such as West Virginia University's steel drum band and the University of Hawai'i Tuahine Troupe dancers. The Learning Laboratory Family Activities Center will allow visitors to experience hands-on art and science activities, including a model of Oregon State University's 14,000-square-foot wave basin that recreates hurricane- and tsunami-related waves to understand their impact on coastal communities. The program will also feature Alumni Hall, an area for graduates of public and land-grant universities and USDA programs to reconnect with each other and share memories.
Visitors will also be able to visit the Festival Marketplace to purchase crafts, food items and popular books and recordings relating to the universities and the USDA.
Sponsors
"Campus and Community: Public and Land-grant Universities and the USDA at 150" is produced in partnership with the Association of Public and Land-grant Universities and the U.S. Department of Agriculture. Participating universities include Indiana University, Iowa State University, Michigan State University, Mississippi State University, Montana State University, Oregon State University, Texas A&M University, University of California, Davis, University of Florida, University of Hawaii, University of Illinois, University of Maryland, University of Missouri, University of Tennessee, University of Vermont, Washington State University and West Virginia University.
About the Festival
The Smithsonian Folklife Festival, inaugurated in 1967, honors tradition bearers from across the United States and around the world. With approximately 1 million visitors each year, the Festival unites performers and visitors in the nation's capital to celebrate the diversity of cultural traditions. It is produced by the Smithsonian's Center for Folklife and Cultural Heritage. The Festival's website is www.festival.si.edu.
# # #
SI-106-2012