Smithsonian Latino Center and Human Rights Campaign Connect Latino and LGBT History
June 7, 2016
News Release
Addthis Share Tools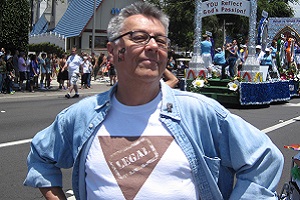 The Smithsonian Latino Center and the Human Rights Campaign will present "Recovering Latinx LGBT History: Dan Guerrero with the Editors of Queer Brown Voices," Thursday, June 16, 6:30 p.m., in the Rasmuson Theater at the Smithsonian's National Museum of the American Indian. Latinx, spelled intentionally with an x, is an increasingly common gender-inclusive term within the LGBT community.
The free, 90-minute program will focus on the history of Latinxs in the LGBT movement, making connections across civil rights struggles. The program will include a presentation by director, producer and activist Dan Guerrero, titled "Activism & the Arts: A Life Journey"; an onstage discussion with the co-editors of Queer Brown Voices: Personal Narratives of Latina/o LGBT Activism, moderated by Guerrero; and a conversation with the audience, including a response by Joanna Cifredo, racial and economic justice policy analyst at the National Center for Transgender Equality.
Guerrero is the son of the iconic Chicano musician Lalo Guerrero and a veteran of the entertainment industry. Since the 1970s he has been one of the few Mexican American casting directors, agents, writers and producers working in theater, film, television and radio. Guerrero is the author and star of ¡Gaytino!, an autobiographic one-man show, and the co-producer and co-writer of Lalo Guerrero: The Original Chicano, an award-winning documentary on his late father.
The program will be followed by a book sale and signing with the co-editors of Queer Brown Voices, Leti Gomez, Salvador Vidal-Ortiz and Uriel Quesada. Gomez is a co-founder and former executive director of LLEGÓ, the first national Latina/o LGBT organization. Vidal-Ortiz is an associate professor of sociology at American University, where he also teaches in the Women's, Gender and Sexuality Studies Program. Quesada is associate dean of the College of Humanities and Natural Sciences, an associate professor of Spanish and director of the Center for Latin American and Caribbean Studies at Loyola University New Orleans.
This program was organized to celebrate LGBT Pride Month and to uncover the intersections between LGBT and Latino history. It will be webcast live on http://latino.si.edu/Programs. ASL interpretation will be provided for this event.
About the Smithsonian Latino Center
The Smithsonian Latino Center ensures that Latino contributions to arts, sciences and humanities are highlighted and advanced through the development of public programs, research, museum collections and educational opportunities at the Smithsonian and its affiliated organizations across the U.S. For more information, visit www.latino.si.edu.
About the Human Rights Campaign
The Human Rights Campaign (HRC), is America's largest civil rights organization working to achieve equality for lesbian, gay, bisexual, transgender and queer people. HRC envisions a world where LGBT people are embraced as full members of society at home, at work and in every community.
# # #
SI-285-2016