"E Mau Ke Ea: The Sovereign Hawaiian Nation" Opens at the National Museum of the American Indian Jan. 17
Exhibition Traces the Historical Precedent and Legal Basis for the Contemporary Hawaiian Sovereignty Movement
January 14, 2016
News Release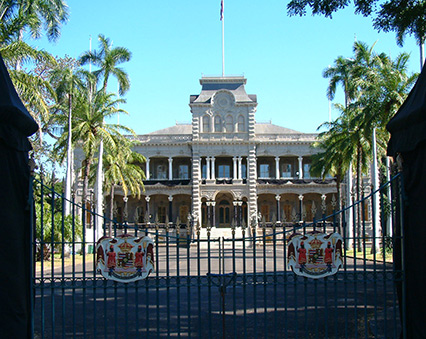 The Smithsonian's National Museum of the American Indian in Washington, D.C., presents "E Mau Ke Ea: The Sovereign Hawaiian Nation." The exhibition will be on view from Jan. 17 through January 2017 in the museum's Sealaska Gallery on the second floor.
In explaining today's Hawaiian sovereignty movement, the exhibition covers the history of Hawai'i from the arrival of early Polynesian seafarers and the development of a cluster of independently ruled chiefdoms, to the unification of the Kingdom of Hawai'i by Kamehameha the Great in 1812. Following the unification, the overthrow of the Hawaiian monarchy by a small group of  non-Hawaiians backed by U.S. diplomats and naval forces in 1893 left Native Hawaiians to contend with American rule since 1900. Visitors will leave the exhibition with a richer understanding of the internationally recognized sovereign status of the Kingdom of Hawai'i—embracing western innovations while maintaining its Polynesian identity—and the legal basis for the contemporary Hawaiian sovereignty movement.
The organization of the exhibition is chronological and divided into five sections: "The Rise of the Hawaiian Kingdom," "From Native Kingdom to Constitutional Government," "The Overthrow, 1887–1900," "Hawaiian Renaissance" and a closing panel. The exhibition is curated by Douglas Herman, senior geographer.
Public Programs
The museum will host two public programs and a symposium to accompany the exhibition. The first program, "Aloha 'Oe: Honoring Hawai'i's Last Sovereign Ruler, Queen Lili'uokalani" will be held Jan. 30 and 31. It will explore the music Queen Lili'uokalani wrote and the quilts she created while imprisoned in her palace.
On Saturday, March 12, Hawaiian singer Starr Kalāhiki will present The Lili'u Project, a program dedicated to bringing new attention to the story, music and poetry of Queen Lili'uokalani. This music presentation is about love, healing, forgiveness, loss, beauty and gratitude. These two Hawaiian women, Starr Kalāhiki and Queen Lili'uokalani, both committed to building awareness and recognition to Hawaiian self-determination, are a testament to the strength and power of the legacy of the Hawaiian Nation.
The symposium, "I Ka Pono: The Future of Hawaiian Sovereignty," will be held Saturday, Jan. 30, 2–5 p.m. in the museum's Rasmuson Theater. It will feature five prominent speakers from Hawai'i giving different perspectives on what Hawaiian sovereignty might mean for the future.
About the National Museum of the American Indian
For additional information about the National Museum of the American Indian, visit www.AmericanIndian.si.edu. Follow the museum via social media on Facebook, Twitter (@SmithsonianNMAI) and Instagram (@Smithsonian_NMAI).
# # #
SI-22-2016