Digitization Project Brings Ancient Near Eastern Inscriptions into 21st Century
Digital Images Provide Access to Rare Paper Squeezes
July 25, 2011
News Release
Addthis Share Tools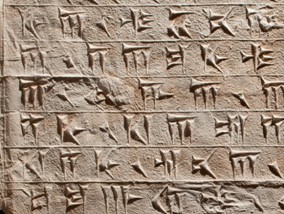 The Freer Gallery of Art and the Arthur M. Sackler Gallery Archives announces a new 3-D digital resource that will enable scholars and the public to learn more about the ancient Near East through a unique group of pressed-paper molds called squeezes. This resource provides unparalleled access to the archives' collection of squeezes from ancient Near Eastern archaeological sites.
The squeezes were created in the early 20th century by the German archaeologist Ernst Herzfeld (1879-1948), a prominent scholar on the ancient Near East, as a way to record intricate inscriptions on monuments and other stone buildings. They were formed by pressing layered, wet, moldable paper into an inscription and leaving it to dry, creating a 3-D mirror-image representation of the original. Created to serve as temporary reference materials, the squeezes have become vital to continued research for archaeological sites that are no longer accessible.
The squeezes contain Arabic script, Middle Persian and Cuneiform impressions from archaeological sites such as Pasargadae, Persepolis, Naqsh-i Rustam and Paikuli. The captured inscriptions were often carved on commissioned temples, civic buildings and statues to record battles won, titles acquired or the lineage of kings. Scholars have used the squeezes to chronicle the reigns of local rulers and discover the nature of otherwise unidentifiable structures. More recently, scholars have used microscopic traces of pigments retained from the original surface to provide a unique and exceptional journal of the color and decoration used at the time of the monument's creation.
"These digital images offer extraordinary access to inscriptions from the cradle of civilization," said Alex Nagel, assistant curator of Near East art. "By making them available to scholars and enthusiasts worldwide, we're ensuring that new discoveries can come from these remarkable artifacts."
The archives hold almost 400 paper squeezes that belong to its larger collection of Ernst Herzfeld papers.
In 2010, the archives received a grant from the Smithsonian's Collections Care and Preservation Fund to aid in the preservation of the squeezes. The archives, in collaboration with the Smithsonian's Museum Conservation Institute, created a digital version of each squeeze using a new imaging technique called Reflectance Transformation Imaging. RTI allows users to manipulate the image and enhance a squeeze's readability, while protecting the fragile original objects from further damage.
For more information on the squeeze digitization project, the Herzfeld papers and the process of making squeezes, visit www.asia.si.edu/research/squeezeproject/.
The Freer Gallery of Art and the Arthur M. Sackler Gallery Archives is a manuscript and photograph repository dedicated to furthering the study of Asian and Middle Eastern art and culture, as well as turn-of-the-century American art. The archives collects, preserves and makes available more than 140 collections from the early 19th century to the present, including professional papers, photography, graphics and audio tapes. It is located in the Arthur M. Sackler Gallery at 1050 Independence Avenue S.W. on the National Mall in Washington, D.C.
# # #
SI-323-2011