Dark Shadows Launches at the Steven F. Udvar-Hazy Center May 11
April 26, 2012
News Release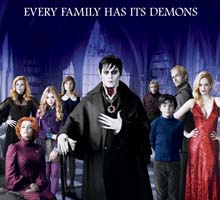 Smithsonian Theaters presents Dark Shadows at the National Air and Space Museum's Airbus IMAX Theater at the Steven F. Udvar-Hazy Center in Chantilly, Va., beginning May 11.
In the year 1752, the Collins family, with young son Barnabas, set sail from Liverpool, England, to start a new life in America. Two decades pass, and Barnabas, a rich and inveterate playboy, breaks the heart of a witch, who dooms him to a fate worse than death, turning him into a vampire, and then burying him alive. Centuries later, Barnabas is inadvertently freed from his tomb and emerges into the very changed world of 1972. He returns home to find that his once-grand estate has fallen into ruin. His dysfunctional descendents have fared little better, each harboring their own dark secrets.
The 113-minute, PG-13 rated film was directed by Tim Burton and features Johnny Depp, Eva Green, Michelle Pfeiffer, Helena Bonham Carter and Chloe Moretz.
Individual tickets are on sale starting April 27 for shows at the Airbus IMAX Theater. Tickets may be reserved and purchased up to two weeks in advance. Groups of 10 or more may reserve tickets now for any date during the film's run. The public may visit any Smithsonian Theaters box office, call toll-free (866) 868-7774 or visit www.si.edu/IMAX for information or to purchase tickets.
The Airbus IMAX Theater is located on the main floor of the Steven F. Udvar-Hazy Center at 14390 Air and Space Museum Parkway in Chantilly, Va. The theater's 75-by-62-foot screen is the largest in northern Virginia.
# # #
SI-200-2012