"D-Day: Normandy 1944" to Play at the National Air and Space Museum and Steven F. Udvar-Hazy Center Beginning May 23
May 9, 2014
News Release
Addthis Share Tools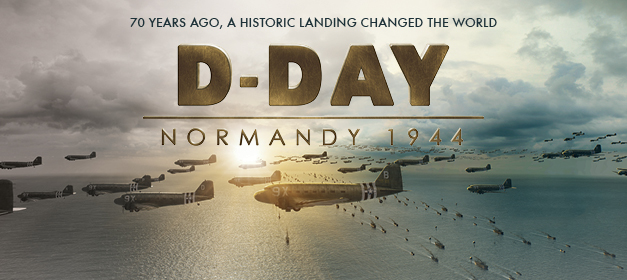 Smithsonian Theaters will launch the giant-screen film, D-Day: Normandy 1944, May 23 in the Lockheed Martin IMAX Theater at the Smithsonian's National Air and Space Museum and in the Airbus IMAX Theater at the museum's Steven F. Udvar-Hazy Center in Chantilly, Va. Blending multiple cinematographic formats, including animation, CGI and live-action images, D-Day: Normandy 1944 brings this monumental event to the world's largest screens for the first time.
In May 1943, World War II is at its apex. To counter Hitler and the Axis forces, the Allies open a second front on the western side of Europe. The Allied forces, led by U.S. Gen. Dwight D. Eisenhower, have just months to organize the operation code-named "Overlord," with just a 50/50 chance of success, that will break Hitler's Atlantic Wall fortress and lead to the Battle of Normandy.
Narrated by journalist and author Tom Brokaw, the 45-minute D-Day: Normandy 1944 provides a penetrating look at this moment in history in an unique manner. D-Day is well known, yet few know exactly why and how, from the end of 1943 through August 1944, this became the most important location in the world.
"We wanted to make a film to pay tribute to the millions of men and women, soldiers and civilians, who gave their lives for our freedom 70 years ago," said Pascal Vuong, the movie's writer and director. "Regardless of nationality, virtually everyone today has a parent, grandparent or even a great-grandparent with a connection to World War II. I thought for a long time about how to produce a large-format documentary on this subject, and finally found my own way of telling this complex story to family audiences using a brand-new 'cocktail,' mixing innovative film techniques."
"What I was drawn to in this film is that it tells us the story of D-Day in a new way that gives such clarity to one of the most important events in the history of mankind," said Brokaw. "I originally thought this was going to be another traditional documentary featuring grainy black-and-white footage, but as soon as I saw the first minutes of this film on the giant IMAX 3-D screen, I found it irresistible."
The second large-format documentary film from Vuong, D-Day: Normandy 1944 is produced by N3D LAND Productions and distributed worldwide by 3D Entertainment Distribution. Ronan Chapalain is responsible for the stereography and post production, and Col. (Ret.) Peter Herrly is the main historical advisor. The original musical score was written by Franck Marchal and recorded by the London Symphony Orchestra, with conductor Paul Rouger. Producers are Catherine and Pascal Vuong and Sylvain Grain, and Normand McKay served as associate producer.
Individual tickets for D-Day: Normandy 1944 are on sale now and may be reserved and purchased up to two weeks in advance. Groups of 10 or more may reserve tickets now for any date during the film's run. The public may visit any Smithsonian Theaters box office, call toll-free (866) 868-7774 or visit www.si.edu/IMAX for information or to purchase tickets.
The National Air and Space Museum is located on the National Mall in Washington, D.C. The Udvar-Hazy Center is located in Chantilly, Va., near Washington Dulles International Airport. Both facilities are open daily from 10 a.m. until 5:30 p.m. September–May with extended hours seasonally from May 24 to Sept. 2; all Smithsonian museums are closed Dec. 25. Admission is free; however, there is a $15 parking fee for any vehicle arriving at the Udvar-Hazy Center before 4 p.m.
The Airbus IMAX Theater is located on the main floor of the Steven F. Udvar-Hazy Center at 14390 Air and Space Museum Parkway in Chantilly, Va. The theater's 86-by-62-foot screen is the largest in northern Virginia.
The film will be showing in 3-D in the Lockheed Martin IMAX Theater, which is located on the main floor of the National Air and Space Museum on the National Mall. The theater's 74-by-49-foot screen is one of the largest on the East Coast.
# # #
SI-189-2014