Cooper-Hewitt's Education Programming Expands with Addition of New Off-Site Space and Design in the Classroom Workshops
April 23, 2012
News Release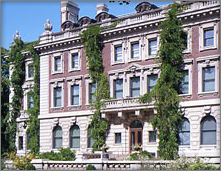 The Smithsonian's Cooper-Hewitt, National Design Museum today announced a new off-site space to be used for educational programming for students, families, educators and adults. Located at 111 Central Park North in New York's rapidly developing Park Heights/Harlem neighborhood, the Cooper-Hewitt Design Center will open in May, thanks to generous support from Target. This new space complements Design in the Classroom, Cooper-Hewitt's ongoing educational initiative in New York City Public Schools, which sends design educators into classrooms for a series of free hands-on workshops.
"Target's continued support enables the museum to maintain the Cooper-Hewitt Design Center and Design in the Classroom programs, deepening the understanding and impact of design for an even broader audience," said associate director Caroline Baumann.
The 1,500-square-foot space will open Saturday, May 12, with a 10 a.m. ribbon cutting ceremony and reception for community leaders, followed by free design workshops for families from 11 a.m. to 4 p.m. The hour-long "Sesame Street Muppet Design: Drawing" workshops will be led by the Sesame Street art and design team. Advance registration for the workshops is required at www.cooperhewitt.org/calendar.
Designer Todd Oldham, in collaboration with teens from the museum's DesignPrep program, will design the interior of the space. "It is so important to encourage young people to explore design, which brings out confidence, creativity and problem-solving skills," said Oldham. "This new space in Harlem is an amazing location that will reach so many new people in the community, and I'm excited to be part of it."
Cooper-Hewitt's award-winning Education department offers a variety of public programs, which examine design thinking and highlight the museum's exhibitions and collections. Programs at the new Cooper-Hewitt Design Center will include:
Target Design Kids programs, including interactive storytelling sessions and the Imagination Playground featuring unstructured free play
Target Design K-12 programs for schools, featuring hands-on workshops
Professional development programs for K-12 educators
Drop-in design programs, with free workshops for children ages 5 and older
Evening public programs for adults
Through the Design in the Classroom program, K–12 grade students explore the role of design in everyday life and learn to approach the world in a visual way. Every New York City teacher is eligible to register for this free workshop, which is aligned to core curriculum, and includes all materials, teaching resources and a visiting Cooper-Hewitt design educator. The program imparts essential 21st-century skills, such as critical thinking, visual literacy, teamwork and problem solving and can be used to enhance the teaching of any subject matter, including mathematics, science, environmental studies, language arts, history and visual arts.
"The Design in the Classroom program encourages students to think like designers as they engage in the design process through active observation, critical discussion, the act of making, visual communication and presentation and critique," said Caroline Payson, director of education at Cooper-Hewitt. "We're so pleased to have the support of Target in bringing this free program to local schools, which may not have otherwise been able to visit the museum due to budget constraints or geographic distance."
Design in the Classroom will reach more than 17,000 students by the end of the 2011-2012 academic year, a 50 percent increase compared to the 2009-2010 numbers of on-site programs at the museum. As of April 2012, Cooper-Hewitt has served 171 schools across all five boroughs, 135 of which qualify as Title I schools with children from low-income families.
The Cooper-Hewitt Design Center is made possible by the generous sponsorship of Target.
Additional support is provided by Suzanne Tick/Tandus.
Cooper-Hewitt's Education Programs are made possible in part by Target; Alcoa; the Altman Foundation; Studio in a School Association Inc.; Deutsche Bank; The Pinkerton Foundation; the Lily Auchincloss Design Education Endowment; the Richard & Jean Coyne Family Foundation; The New York Community Trust and its Hive Digital Media Learning Fund; the John D. and Catherine T. MacArthur Foundation; Public Funds from the New York State Council on the Arts, a State Agency; Cooper-Hewitt Master's Program Fund; the Milton & Sally Avery Arts Foundation; and the Rita J. and Stanley H. Kaplan Family Foundation.
About the Renovation of the Carnegie Mansion
Cooper-Hewitt's main facility, housed in the Carnegie Mansion, is undergoing renovation as part of a $64 million capital campaign that includes enlarged and enhanced facilities for exhibitions, collections display, education programming and the National Design Library, and an increased endowment. The renovated facility is scheduled to reopen in 2014.
During the renovation, Cooper-Hewitt's usual schedule of exhibitions, education programs and events are being staged at various off-site locations, including Bill's Design Talks at the Greene Space, the Enid and Lester Morse Historic Design Lecture Series at the University Club and the "Graphic Design—Now in Production" exhibition at Governors Island next summer.
About the Smithsonian's Cooper-Hewitt, National Design Museum
Founded in 1897, Cooper-Hewitt is the only museum in the nation devoted exclusively to historic and contemporary design. The museum presents compelling perspectives on the impact of design on daily life through active educational programs, exhibitions and publications.
About Target
Minneapolis-based Target Corporation serves guests at 1,765 stores across the United States and at Target.com. Since 1946, Target has given 5 percent of its income through community grants and programs like Take Charge of Education; today, that giving equals more than $3 million a week. Target plans to give $1 billion to education—including bringing more arts and design into the classroom—by the end of 2015.
# # #
SI-128-2012