Cooper-Hewitt Announces Harlem Focus Series
April 19, 2013
News Release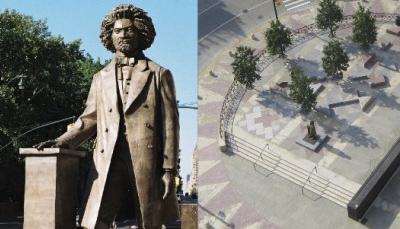 This spring, the Smithsonian's Cooper-Hewitt, National Design Museum will launch the Harlem Focus programming series highlighting designers, architects and artists whose work engages and affects the local Harlem community. The museum will feature a series of talks curated and led by architectural consultant and Harlem historian John Reddick at the Cooper-Hewitt Design Center (111 Central Park North, New York).
"Cooper-Hewitt is pleased to play an active role in the Harlem community with our Design Center family programming, and this series will celebrate and explore great design within the surrounding neighborhood," said Caroline Baumann, acting director of the museum. "From public art and landscape architecture, to rooftop farms and urban woodland restoration, the series will examine how this unique neighborhood continues to evolve, change and inspire."
Public programs include:
Public Monuments: Art in Collaboration with Landscape Design
Wednesday, May 8; 6:30 p.m.
After winning a public competition, artist Algernon Miller and sculptor Gabriel Koren collaborated with landscape architect Mark Bunnell of Quenell Rothschild & Partners to design and execute the public circle and monument to African American abolitionist leader Frederick Douglass at the corner of 110th Street and Frederick Douglass Boulevard in Harlem. Miller and Bunnell will discuss their collaboration and explain how landscape design informs site-specific art and vice versa.
Inspired: Africa, WPA Art and a Unique Hospital Design
Wednesday, May 22; 6:30 p.m.
Architect Jack Travis will speak with Reddick about his work on the Harlem Hospital's Mural Pavilion, exploring the juxtaposition between its historic inventory of Works Progress Administration-era murals by African American artists and the contemporary African-inspired color palette, pattern and philosophy.
Architectural Photography: The Imaging of Design
Wednesday, June 12; 6:30 p.m.
Distinguished photographer Albert Vecerka will share his insight and technical savvy in capturing the utility, spirit and beauty in architecture and designed objects.
Garden Design: The Art of Color, Variety and Form
Wednesday, June 26; 6:30 p.m.
Curators and gardeners from the Central Park Conservancy will discuss how the unique landscape informs the design of the Conservatory Gardens to complement and contrast with Olmsted's overall design for Central Park. Despite the garden's formal planting structure, there are elements that are redesigned each year in ways that vary the form and color of the garden in the public's view.
Up on the Roof: Farming the Urban Roof Top
Wednesday, July 10; 6:30 p.m.
Landscape architect Elizabeth Kennedy will present her work on the Brooklyn Grange farm, located on the massive 65,000-square-foot roof that towers 11 stories over the East River, atop Building 3 at the historic Brooklyn Navy Yard.
The Harlem Focus series is made possible through the generous support of Target.
Program Registration
All programs will be held at the Cooper-Hewitt Design Center in Harlem at 111 Central Park North in New York. Advance registration is required at www.cooperhewitt.org/events. General admission, $10; senior citizens, $8. Cooper-Hewitt members and students are admitted free with registration. Members of the press can RSVP to CooperHewittPress@si.edu. For further information, call (212) 849-8353.
About Cooper-Hewitt, National Design Museum, Smithsonian Institution
Founded in 1897, Cooper-Hewitt is the only museum in the nation devoted exclusively to historic and contemporary design. The museum presents compelling perspectives on the impact of design on daily life through active educational programs, exhibitions and publications.
Cooper-Hewitt's main facility, housed in the Carnegie Mansion, is undergoing renovation as part of a $64 million capital campaign that includes enlarged and enhanced facilities for exhibitions, collections display, education programming and the National Design Library, and an increased endowment. During the renovation, Cooper-Hewitt's usual schedule of exhibitions, education programs and events will be staged at various off-site locations.
# # #
SI-147-2013