Civil War Photography Comes to Life at the Smithsonian Castle
Exhibit Explores the Advancements of Photography for "Civil War 150"
July 30, 2012
News Release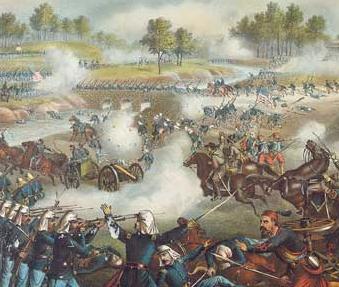 A photo exhibit to commemorate the 150th anniversary of the Civil War, "Experience Civil War Photography: From the Home Front to the Battlefront," opens in the Smithsonian Castle Aug. 1 and it continues for a year. Advancements in photography brought the conflict close to home for many Americans and the exhibit features a stereoview and a carte-de-visite album of Civil War generals.
During the Civil War the Castle served as a home for the Smithsonian Secretary's family and a place of learning and collecting. The exhibit displays excerpts from the diary from the daughter of the Secretary Joseph Henry. Mary Henry recorded the comings and goings of soldiers to the Castle use of its towers to observe advancing soldiers and the state of Washington after Lincoln's assassination.
Also featured are Smithsonian employee Solomon Brown (1829-1906) and the lecture hall that hosted a series of abolitionist speakers; it was destroyed by fire in 1865. Stereoviews, a form of 3-D photography that blossomed during that era, daguerreotypes, tintypes and ambrotypes—all emerging types of photography—are highlighted in the exhibit to explore the ways photography was used to depict the war, prompt discussion and retain memories.
The exhibit features a range of Civil War-era photographic materials from Smithsonian collections, including cameras, stereoviewers, albums and portraits, alongside photographs of soldiers and battlefields. Highlights include an ambrotype portrait of an African American washerwoman, carte-de-visite (a type of small photo) album of Civil War generals, an 11-by-4-inch-view camera and equipment and an examination of the emergence of battlefield photography and photojournalism.
There will be two short video presentations: The first is a History channel video on field photography narrated by Roger Daltrey of The Who. The second video, produced by the Center for Civil War Photography for the Civil War Trust, presents the war photos as they were meant to be seen—in 3-D—allowing visitors to step back in time. Visitors will also have the opportunity to view a period stereoview for themselves in the exhibit.
"Experience Civil War Photography: From the Home Front to the Battlefront" is a joint exhibition produced by the Smithsonian and the Civil War Trust and is sponsored by the History channel. For more information on "Civil War 150," visit http://civilwar150.si.edu.
# # #
SI-342-2012