Christopher Liedel Named President of Smithsonian Enterprises
March 8, 2012
News Release
Addthis Share Tools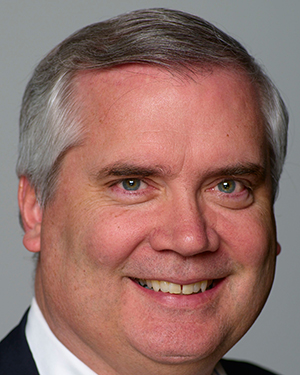 Christopher Liedel, executive vice president and CFO for the National Geographic Society, has been named president of Smithsonian Enterprises following a national search. He begins work at the Smithsonian this month.
Smithsonian Enterprises is the revenue-producing organization at the Institution. It has three primary business divisions: media, retail and business development and licensing.
The media division includes Smithsonian and Air & Space magazines and their online products; Smithsonian Books; goSmithsonian, a brochure and online guide for visitors; and the Smithsonian Channel.
In September 2011, Smithsonian Channel was awarded its first Emmy in cinematography for a nature documentary. The three-year-old channel is the youngest to have won an Emmy award.
The retail operation includes museum and airport stores, the Smithsonian Catalog, three IMAX Theaters, food concessions and adult and student travel programs. Consumer-product licensing encompasses agreements with more than 40 companies permitting the use of the Smithsonian name following collaboration with Smithsonian staff and curators.
"We're delighted to welcome Chris to the Smithsonian leadership team," said Smithsonian Secretary Wayne Clough. "He's a strategic, creative thinker with extensive experience in a variety of media—the perfect person to lead Smithsonian Enterprises."
"I'm honored to have the opportunity to work in service of a true national treasure, and delighted to be joining the Smithsonian team under Wayne Clough," said Liedel. "I look forward to collaborating with the Smithsonian museum and research center leadership to further expand on their extraordinary success."
Liedel has been with National Geographic for 16 years. He began as vice president for strategic planning and the following year was named executive vice president and CFO. He reports directly to the president and board of trustees and has oversight of more than $1 billion in investments, information services, distribution and facilities management. He oversaw a plant expansion to produce National Geographic magazine and negotiated subscription fulfillment outsources with Time Inc. Liedel assisted with the launch of National Geographic Channels and acquired a school publishing business.
Under Liedel's leadership, National Geographic entered a number of new partnerships. Last fall, National Geographic Live launched "The Big Idea," speaker series in partnership with the Nobel Prize Education Fund, featuring Nobel Laureates in conversation with National Geographic Explorers.
His board affiliations include the Nobel Prize Education Fund; National Philanthropic Trust, which he chaired from 2005 to 2008; U.S. Golf Association, where he serves on the executive committee; and Amazon Center for Environmental Education and Research Foundation.
The organization's headquarters on 17th Street in Washington is now a LEED-certified model of energy conservation and sustainable design, and it is the winner of the U.S. Green Building Council's first rating for excellence.
From 1991 to 1996, Liedel was senior vice president at Ringier America Inc., an international media organization based in Switzerland. He established its Non-Traditional Business Group with seven technology units at Ringier.
Liedel, a resident of Vienna, Va., earned his bachelor's degree at Bowling Green State University in Ohio and his master's degree at Georgia State University in Atlanta. He is a Wharton Fellow from the University of Pennsylvania.
The current president, Tom Ott, announced his departure in November 2011 and will continue at Smithsonian Enterprises during the transition.
# # #
SI-122-2012