Children's Book Launch at the National Air and Space Museum
March 7, 2013
News Release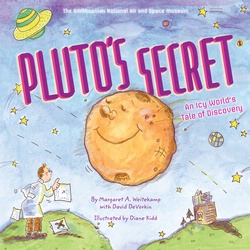 The Smithsonian's National Air and Space Museum will launch Pluto's Secret: An Icy World of Discovery, the first children's book to be written and illustrated by museum employees. The book tells the true story of this distant world through whimsical artwork and entertaining dialogue, for ages 5 and up. Providing a history of the small, icy world from its discovery and naming to its recent reclassification, this book presents a fascinating look at how scientists organize and classify the solar system as they gain new insights into how it works and what types of things exist within it.
Book launch events will take place March 15 at the National Mall building in Washington, D.C., and March 23 at the Steven F. Udvar-Hazy Center in Chantilly, Va. Both launch events will begin at 11a.m. and will include presentations by author Margaret Weitekamp, curator of Space History, co-author David DeVorkin, senior curator of Space History, and illustrator Diane Kidd, early childhood educator. For more details on the launch events, visit the museum's website March 15 and March 23.
Pluto's Secret is available for purchase at the Museum Store at both locations and online.
# # #
SI-80-2013
Note to editors: To request an interview or attend the book launch, contact Alison Mitchell at (202) 622-2376 or mitchellac@si.edu.