Celebrate Hawaiian Culture at the National Museum of the American Indian
Weekend Festival Features Hula, Hands-On Crafts and Hawaiian Film
May 22, 2012
News Release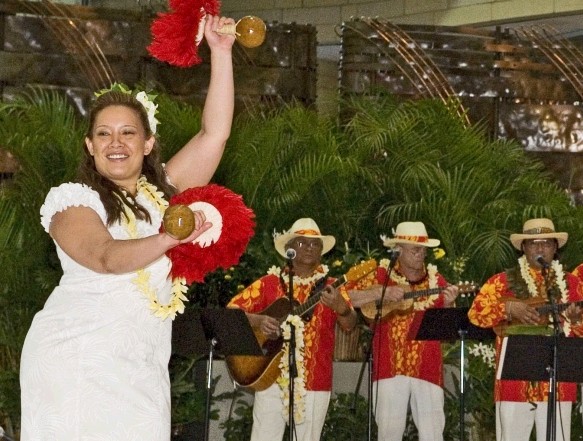 The Smithsonian's National Museum of the American Indian will host a two-day Hawaiian cultural festival in commemoration of Asian Pacific American Heritage Month, which will include demonstrations, discussions, films and more.
Demonstrations
On Saturday and Sunday, May 26-27, at 10:30 a.m.–12:30 p.m., 1:30 p.m.–3:30 p.m. and 4:15 –5 p.m. in the Potomac Atrium, the National Library of Medicine at the National Institutes of Health shares information from its current exhibit "Native Voice: Native Peoples' Concepts of Health and Illness." From May 20 through May 25, the museum hosts Tom "Pohaku" Stone, a Native Hawaiian carver from O'ahum, Hawai'i, who will carve a traditional Hawaiian surfboard (papa he'enalu) and create a traditional Hawaiian sled (papa holua) in the museum's Potomac Atrium. In the outdoor amphitheater area, educator and artist Dalani Tanahy works with modern tools and ancient traditions to produce kapa, or bark cloth. Also located in the outdoor firepit area, Umi Kai creates and demonstrates traditional implements, such as those used for games, food preparation, kapa making, weapons and adornment. Also in the outdoor firepit area, weaver Leinaala Kai shares her artistry and skills in the craft of lauhala weaving. Outside in the amphitheater, healers and lomi lomi (Hawaiian massagers) practitioners, Lehua and Wesley Sen, share their knowledge and experience in traditional healing arts, medicinal herbs and diet.
At 11 a.m. and 2 p.m., join Melissa (Mokihana) Scalph in the imagiNATIONS Activity Center to learn about traditional hula dancing (all ages are welcome). At 11 a.m. and 3 p.m., in the croplands area, located outside on the south side of the museum, Doug Herman, the museum's geographer, discusses what constitutes a Hawaiian canoe garden and its history. At 12 p.m. and 3 p.m., on the fourth level of the museum in rooms 4018-4019, some of our featured Hawaiian culture bearers share what it means to live a life of aloha.
At 12:30 p.m. and 3:30 p.m., in the Potomac Atrium, visitors can watch a traditional hula dancing with Halau Ho'omau Ika Wai Ola O Hawai'i (Saturday) and Halau O 'Aulani (Sunday). At 1:30 p.m., Herman will be in the Group Orientation Room and read stories for the whole family. At 2 p.m., in the Rasmuson Theater, on the first level of the museum, Wes and Lehua Sen share their knowledge of lomi lomi, ho'oponopono, aloha (the loving touch), ho'oma'ema'e, medicinal herbs and diet.
Dinner & A Movie
On Friday, May 25, at 7 p.m., a special screening of Sons of Hawai'i: A Sound, A Band, A Legend (2000, 80 min). Directed by Eddie and Myrna Kamae, the documentary tells the story of the charismatic band, Sons of Hawaii, that helped launch the Hawaiian cultural renaissance. Following the screening, Eddie Kamae will be doing a Q-and-A session via video conference. Cuisine from the museum's Zagat-rated Mitsitam Cafe will be available for purchase from 5 to 6:30 p.m. Seats in the theater are limited; the public may register online at www.AmericanIndian.si.edu/calendar.
Native Film
Throughout the festival, two Hawaiian films will be screened in the Rasmuson Theater at 12:30 p.m. and 3:30 p.m. respectively. Words, Earth and Aloha pays tribute to a range of Hawaiian musicians and composers who flourished between the 1870s and the 1920s, and for whom Hawaiian was still a first language. Keepers of the Flame: The Legacy of Three Hawaiian Women focuses on the lives of three Hawaiian women who lived in the 19th and 20th centuries. This film illuminates the power of their commitment to Hawaiian culture and its impact on future generations.
Exhibition
Opening Friday, May 25, the museum presents "Best in the World: Native Athletes in the Olympics," an exhibition about American Indian Olympians who have participated in some of the most exciting moments in the history of the Games. The exhibition also celebrates the 100th anniversary of the 1912 Games in Stockholm, during which Native Hawaiian athlete Duke Kahanamoku won the swimming 100-meter freestyle and six other medals, marking the beginning of a Hawaiian Olympic swimming dynasty that would last for decades. The exhibition, which runs through Sept. 3, will show clips from the 1957 episode of This is Your Life, featuring Kahanamoku, his seven siblings, fellow Olympic athlete Johnny Weissmuller, family friends and actors Tom and Bill Henry, as well as three out of the eight survivors Duke rescued from a capsized boat off of Newport Beach, Calif.
Artist Talks
Stone will share his knowledge of ancient Hawaiian sports in celebration of the opening of the "Best in the World: Native Athletes in the Olympics" exhibition Friday, May 25, at 2 p.m. in the Rasmuson Theater.
imagiNATIONS Activity Center
Throughout the weekend, visitors can learn how to transform tree bark into a soft, fragrant material called kapa in traditional Hawaiian, then create their own stamps, decorate them and take them home as souvenirs. Visitors can also celebrate aloha by learning how to make a ti leaf lea. Both activities are recommended for children ages 5 and older. These activities are free, but timed tickets are required and available for advance pick-up in the imagiNATIONS Activity Center. First come, first served. Programs begin on the half hour.
For the full schedule, visit www.AmericanIndian.si.edu.
# # #
SI-245-2012