Celebrate Christmas in England with Smithsonian Journeys
Tour Features Traditional English Christmas with New-Found Friends in Canterbury
August 27, 2010
News Release
Addthis Share Tools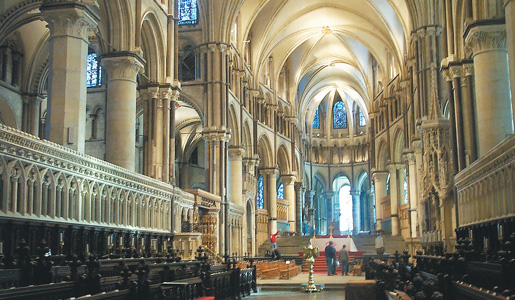 Smithsonian Journeys celebrates the holiday season in traditional English fashion in Canterbury, England (Dec. 20-27). Travelers will explore Canterbury's medieval cobbled streets known to Chaucer's pilgrims, have access to private lectures and tours and join local residents in local traditions that mark this festive season. Resident historian Rosalind Hutchinson will welcome Smithsonian travelers to her hometown, where many have enjoyed her expertise, charm, humor and insight into all things British for more than 10 years.
Highlights of this special tour include a trip through the frost-covered Kent countryside to visit Leeds Castle and the city of Rochester and a day excursion to London, which features private tours of Spencer House and the British Museum. Back in Canterbury, families will welcome Smithsonian travelers for caroling in the town square. On Christmas Day, travelers will enjoy reserved seating at Canterbury Cathedral, where services are led by the Archbishop of Canterbury, Primate of All England and leader of the Anglican Communion worldwide, and feature the choir singing at full capacity. A traditional English Christmas Day luncheon of roast fowl and sausages, Yorkshire pudding and all the trimmings, plus a flaming plum pudding concludes the day.
Accommodations at the Country Abode Hotel, a gracious and historic boutique hotel, offer charming guestrooms and a convenient location to nearby restaurants and shops. (Tour prices start from $4,995.) More information can be found at www.SmithsonianJourneys.org/Christmas or by calling toll-free 1 (877) 338-8687.
About Smithsonian Journeys
Smithsonian Journeys is the Smithsonian Institution's travel program, with more than 40 years dedicated to life-enriching experiences worldwide. The Smithsonian is known for "Inspiring Generations through Knowledge and Discovery," which is central to Smithsonian Journeys and its more than 150 expert-led international and domestic tours featuring exclusive access and unforgettable experiences. For more information, call toll-free 1 (877) 338-8687 or visit www.SmithsonianJourneys.org.
About Smithsonian Institution
Founded in 1846, the Smithsonian is the world's largest museum and research complex consisting of 19 museums and galleries, the National Zoological Park and nine research facilities. There are 6,000 Smithsonian employees, including approximately 500 scientists, and more than 6,500 volunteers. There were approximately 30 million visits from around the world at the Smithsonian in 2009 with more than 188 million visits to the Smithsonian websites. The total number of objects, works of art and specimens at the Smithsonian is estimated at 137 million.
# # #
SI-373-2010