British Royal Air Force's Red Arrows Fly to the National Air and Space Museum's Udvar-Hazy Center
August 19, 2019
News Release
Addthis Share Tools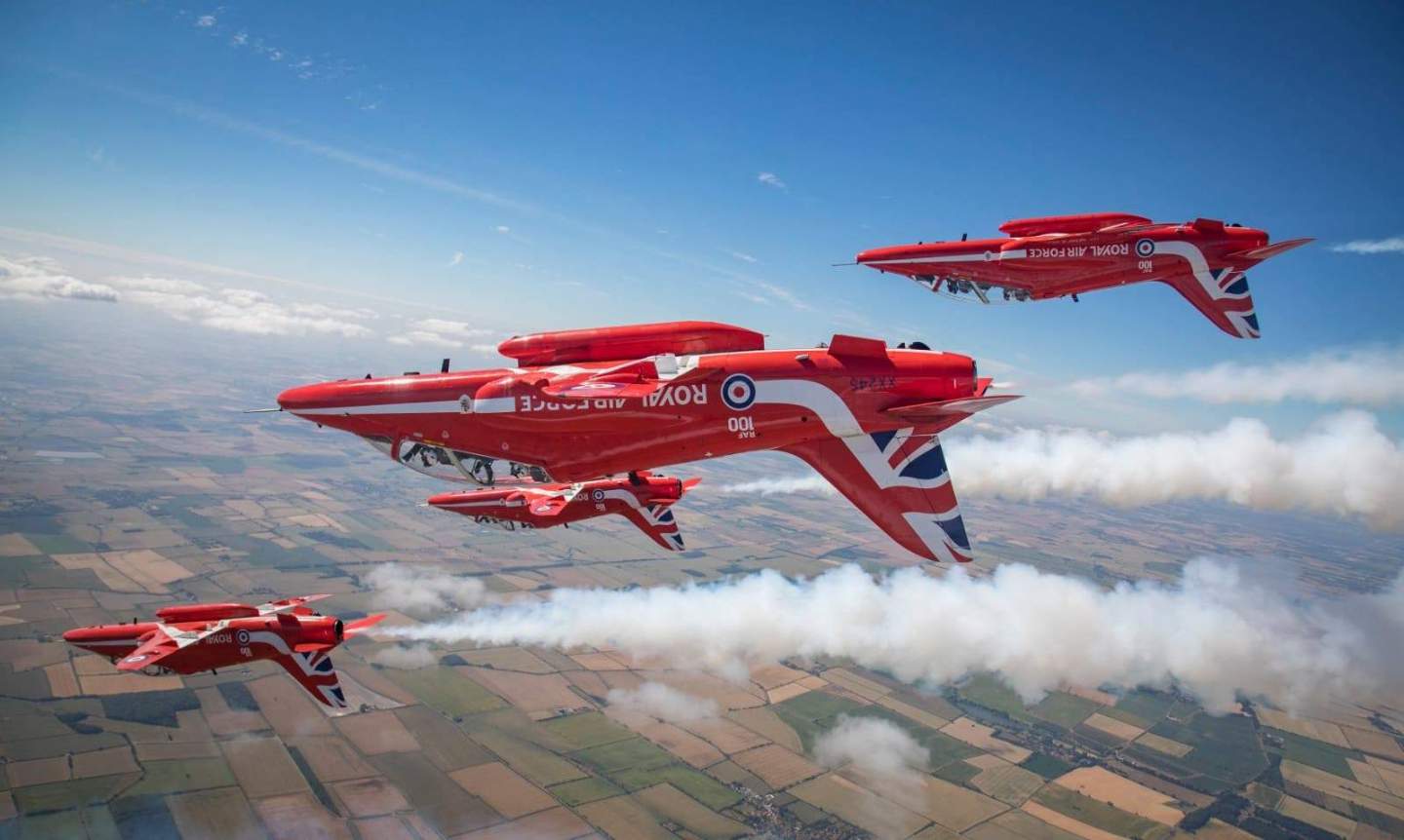 The National Air and Space Museum's Udvar-Hazy Center will host the British Royal Air Force's Red Arrows, one of the world's premier aerobatic display teams, Tuesday, Aug. 27. As part of their North American tour, three Red Arrows Hawk T1s will fly past the museum and will then be on display for visitors to see on the ramp outside the museum. The museum also will host activities inside, including panel discussions, curator talks and other educational activities.
The museum will open a half hour early, at 9:30 a.m., Aug. 27, and the Red Arrows flypast will be at 10 a.m. The aircraft will be in place outside the museum from 10:30 a.m. to 3 p.m. Air crew and pilots' panel discussions will take place inside the museum at 11:30 a.m., 12:30 p.m. and 2 p.m.
Representing the speed, agility and precision of the Royal Air Force, the Red Arrows team is the public face of the service. Flying distinctive Hawk fast-jets, the team is made up of pilots, engineers and essential support staff with frontline, operational experience. With their trademark Diamond Nine shape and combination of close formations and precision flying, the Red Arrows have been flying since 1965.
The Udvar-Hazy Center was recently named "Best Museum" in Northern Virginia Magazine's annual readers' poll. To learn more about the museum and the Red Arrows flyover and static display visit the museum's website.
The National Air and Space Museum's Steven F. Udvar-Hazy Center is located in Chantilly, Virginia, near Washington Dulles International Airport. The museum building on the National Mall in Washington, D.C., is located at Sixth Street and Independence Avenue S.W. Both facilities are open daily from 10 a.m. until 5:30 p.m. (closed Dec. 25). Admission is free, but there is a $15 parking fee for vehicles entering before 4 p.m. at the Udvar-Hazy Center.
# # #
SI-339-2019