"Between Worlds: The Art of Bill Traylor" Opens Sept. 28 at the Smithsonian American Art Museum
Exhibition Presents the First Major Retrospective of an Artist Born Into Slavery
August 2, 2018
News Release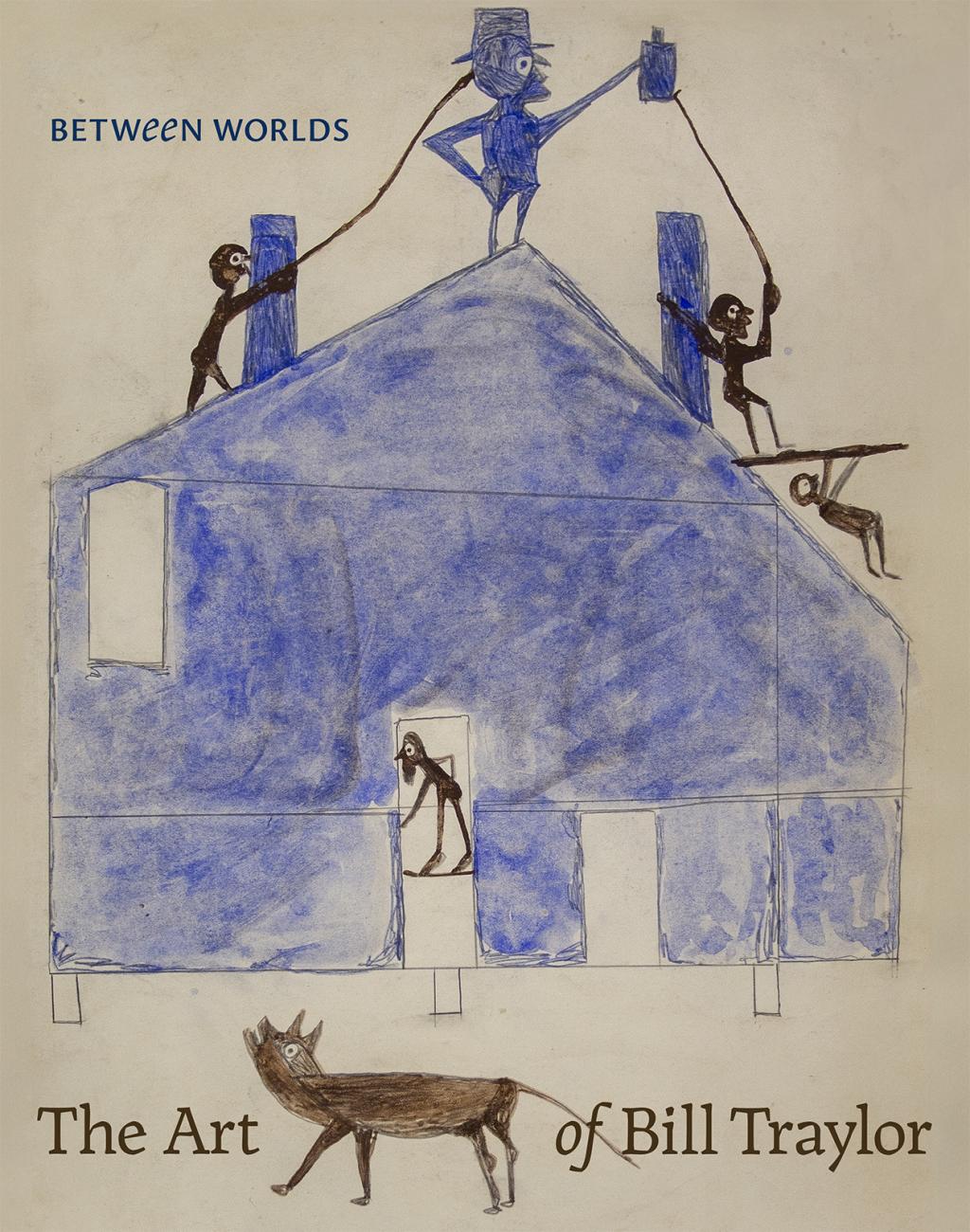 Bill Traylor (ca. 1853–1949) is among the most important American artists of the 20th century. Born in antebellum Alabama, Traylor was an eyewitness to history—the Civil War, Emancipation, Reconstruction, Jim Crow segregation, the Great Migration and the steady rise of African American urban culture in the South. In the late 1930s, a decade after leaving plantation life and moving to the city of Montgomery, Alabama, Traylor took up pencil and paintbrush and created a visual autobiography, images on discarded cardboard extracted from his memories and experiences. When he died in 1949, Traylor left behind more than 1,000 works of art, the only known person born enslaved, and entirely self-taught, to create an extensive body of graphic artworks.
"Between Worlds: The Art of Bill Traylor" brings together 155 drawings and paintings to provide the most encompassing and in-depth study of the artist to date. This major retrospective is drawn from public and private collections across the country and abroad and includes 17 works from the collections of the Smithsonian American Art Museum. It presents a comprehensive picture of Traylor's stylistic development and artistic themes, explored in the context of the profoundly different worlds Traylor's life bridged: rural and urban, black and white, old and new.
"Between Worlds: The Art of Bill Traylor" will be on view at the museum Sept. 28 through March 17, 2019. Organized by Leslie Umberger, curator of folk and self-taught art at the Smithsonian American Art Museum, the exhibition will be accompanied by a groundbreaking monograph in which Umberger thoroughly reassesses the known facts of Traylor's life and family, his creative trajectory, and the art world's discovery of him and positions him within the broader context of American art. The museum is the sole venue for this exhibition.
"Since 1970 when the Smithsonian American Art Museum began collecting folk and self-taught artists with purpose, this museum has blazed a trail in widening and deepening the story of American art and artists," said Stephanie Stebich, The Margaret and Terry Stent Director at the Smithsonian American Art Museum. "Leslie Umberger's thoughtful and encompassing presentation of Traylor's work makes 'Between Worlds' a landmark project. The book and exhibition exponentially expand not just the story of one self-taught artist, but also the overarching stories of American and African American art in the 20th century."
"Bill Traylor came to art making on his own and found his creative voice without guidance," said Umberger. "Traylor was denied literacy, yet his visual depictions comprise an oral history recorded in a pictorial language."
A native of rural Alabama, Traylor came of age during Reconstruction and lived most of his life in the brutal era of Jim Crow segregation. In the late 1920s, Traylor left plantation life and moved to the urban landscape of Montgomery. When Traylor began drawing, he had little to his name and was living predominantly on the streets in the black business district. Montgomery in the 1930s and '40s, though segregated, offered Traylor just enough space to become an artist of powerful vision and ability. Traylor's drawings and paintings look back at a hard rural past and forward at a rising African American culture. Traylor's visual depictions are unique, yet they echo the beliefs and stories that had been part of African American history from slavery through many subsequent decades.
Book
The exhibition is accompanied by a monograph written by Umberger with an introduction by acclaimed artist Kerry James Marshall, published by the Smithsonian American Art Museum in association with Princeton University Press. The 444-page publication features 205 of Traylor's artworks along with 83 supplemental illustrations, city maps of Montgomery, family trees, a timeline of key events from Traylor's life and an extensive bibliography. Umberger's carefully researched chapters offer a richly woven tapestry of social history, biography and art history, creating a portrait of 19th- and early 20th-century Alabama and how it shaped Traylor and his art. The chapters explore Traylor's life and position his art against the backdrop of his time and place, and conclude with an examination of the posthumous attention Traylor's work has garnered. The book will be available for purchase in the museum store and online ($60, hardcover).
Public Programs
The museum will premiere Bill Traylor: Chasing Ghosts, a film by Jeffrey Wolf, in conjunction with the opening of the exhibition, with a public screening Sunday, Sept. 30, at 3 p.m.; the film will be shown again Saturday, March 2, 2019, at 3 p.m. On Friday, Feb. 22, 2019, the museum will present the first in the Margaret Z. Robson symposium series with a host of invited scholars exploring themes related to the exhibition. Details will be available online in November. An original, improvisational jazz duet by musicians Jason Moran and Marvin Sewell, Untitled: (Blue), inspired by Traylor's art, will take place Friday, March 1; tickets will be available for purchase Feb. 4 at 10 a.m.
Self-Taught Art at the Smithsonian American Art Museum
The Smithsonian American Art Museum was among the first major museums to collect works by folk and self-taught artists and to advocate for a more inclusive collection that aims to tell an ever-expanding story of America through the art of its people. The museum began broadening traditional ideas of American art in 1970, when it acquired James Hampton's "Throne of the Third Heaven of the Nations' Millennium General Assembly" (ca. 1950–64). Since then, the museum has been recognized internationally as a leader in championing the importance of works by untrained artists. The collection has grown with major donations from Herbert Waide Hemphill Jr., Chuck and Jan Rosenak, David L. Davies, the Kallir Family and Douglas O. Robson. Today the collections at the museum, which include thousands of works by self-taught artists and the largest holdings of African American and Latino art of any nationally focused institution, reflect the collective identity of America.
Recent exhibitions featuring the work of untrained artists have included "Mingering Mike's Supersonic Greatest Hits" (2015), "Untitled: The Art of James Castle" (2014) and "Ralph Fasanella: Lest We Forget" (2014). The museum has had dedicated gallery spaces for folk and self-taught art for more than 45 years. A new installation of these recently renovated galleries opened to the public in 2016.
Credit
This exhibition is organized by the Smithsonian American Art Museum with support from Art Mentor Foundation Lucerne, Elizabeth Broun, Faye and Robert Davidson, Sheila Duignan and Mike Wilkins, Josh Feldstein, Jocelin Hamblett, Herbert Waide Hemphill Jr. American Folk Art Fund, Just Folk/Marcy Carsey and Susan Baerwald, Lucas Kaempfer Foundation, Marianne and Sheldon B. Lubar, Margery and Edgar Masinter Exhibitions Fund, Morton Neumann Family Foundation, Douglas O. Robson in honor of Margaret Z. Robson, Jeanne Ruddy and Victor Keen, Judy A. Saslow, and Kelly Williams and Andrew Forsyth.
About the Smithsonian American Art Museum
The Smithsonian American Art Museum celebrates the vision and creativity of Americans with artworks in all media spanning more than four centuries. Its National Historic Landmark building is located at Eighth and F streets N.W., above the Gallery Place/Chinatown Metrorail station. Museum hours are 11:30 a.m. to 7 p.m. daily (closed Dec. 25). Admission is free. Follow the museum on Twitter, Instagram, Facebook and YouTube. Museum information (recorded): (202) 633-7970. Smithsonian information: (202) 633-1000. Website: americanart.si.edu
###
SI-429-2018