Armenian Hospitality Warmly Welcomes Visitors to 2018 Smithsonian Folklife Festival
Visitors to the National Mall Get a Taste of Unique Food, Craft and Community Through the "Armenia: Creating Home" Program; Free Festival June 27–July 1, July 4–8
June 19, 2018
News Release
Addthis Share Tools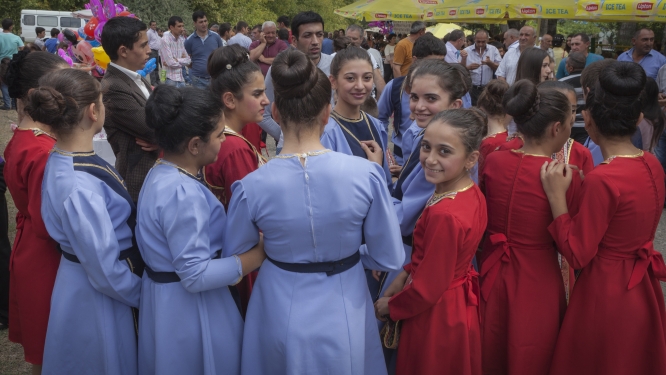 The 2018 Smithsonian Folklife Festival explores the creativity, hospitality and resilience of the Armenian people and its extensive diaspora through a rich slate of vibrant programming that celebrates the role handmade traditions can play in preserving culture and supporting enterprise. Throughout the 10 days of the festival, dozens of artisans, designers, cooks and performers share their skills and stories through workshops, demonstrations, participatory experiences, interactive installations and discussion sessions all highlighting the importance of cultural-heritage enterprise in the face of change.
The Festival will be held June 27–July 1 and July 4–July 8 on the National Mall between Seventh and 12th streets. Admission is free and accessibility services are provided. Festival hours are from 11 a.m. to 5 p.m. each day, with evening concerts beginning at 6:30 p.m. and a special fireworks display June 30. The Festival is co-sponsored by the National Park Service.
"'Armenia: Creating Home' reflects the indomitable spirit of Armenians to create home wherever they are," said Halle Butvin, one of the program's curators. "Through sharing the traditions that have shaped their cultural identity, like feasting, winemaking or craft, they creatively carve new pathways for exchange both within Armenia and across its many diasporas. They recognize and continually reinvent the ways cultural heritage can have value as not just an economic enterprise, but also a way to make meaning of who they are."
Program Highlights
Foodways and Wine: Because feasting is an important pillar of Armenian culture, there will be ample opportunities at the Festival to observe cooking demonstrations, participate in cooking classes and taste regional specialties like Ghapama (stuffed pumpkin) and Gata (Armenian cake) in between wine tastings and cheese-making classes. This year's festival also features special collaborations between notable local and Armenian food experts, like renowned Armenian American Chef Carrie Nahabedian and Washington, D.C.'s Zaytinya restaurant.
Innovation: Select signage at this year's festival can be activated by the Arloopa app, which will animate the subject to show artisans actively at work in their environment in augmented reality. Two immersive, 3-D, virtual-reality tours give visitors unprecedented access to two of Armenia's most prominent historical sites, the Areni-1 Cave Complex, site of the oldest evidence of winemaking, and the Noravank Monastery.
Performance: There are 7–11 million people in the Armenian diaspora, and the festival features a selection of musical groups that span a diversity of musical styles from traditional to contemporary. The Nur Qanon Ensemble, the Samvel Galstian Group and the MVF Band are among the many groups performing, and two of the free evening concerts on the Mall present Armenian chamber and jazz music performances. Seven different groups comprise the The Handes! Armenian Dance Summit during the second weekend of the festival, which also showcases wedding and celebration dances.
Craft: The revitalization of Armenian craft illuminates the intersection between technology and handmade traditions. Workshops, demonstrations and participatory experiences offer visitors the opportunity to engage with artisans as they share their techniques while getting hands-on experience designing, carving, carpet weaving, embroidering, creating calligraphy and making jewelry and musical instruments, among others.
Holiday: The final day of the festival, July 8, happens to fall on the traditional holiday of Vardavar, which Armenians celebrate during the hot summer season by throwing water on each other to cool off.
"Armenia: Creating Home" is produced by the Smithsonian's Center for Folklife and Cultural Heritage in partnership with the Institute of Archaeology and Ethnography in the National Academy of Sciences of Armenia, the My Armenia Cultural Heritage Tourism Program, funded by USAID and implemented by the Smithsonian Institution, the U.S. Embassy in Armenia and the Embassy of Armenia to the United States of America. It is also produced with the support of sponsors: AGBU, Hovnanian Foundation, HIKE Armenia, Birthright Armenia, Armenian Volunteer Corps, ANCA Endowment Fund, Aurora Humanitarian Initiative, IDeA Foundation, Armenia Tree Project and Armenian Assembly of America.
The Festival strives to maintain an accessible and inclusive environment for visitors of all abilities. Information about Accessibility Services may be found at festival.si.edu/accessibility. For more information on the 2018 Smithsonian Folklife Festival, visit https://folklife.si.edu/ and follow the festival on Facebook, Twitter, Instagram and YouTube.
# # #
SI-366A-2018