Archives of American Art Presents "Expanding the Legacy: New Collections on African American Art"
September 1, 2016
News Release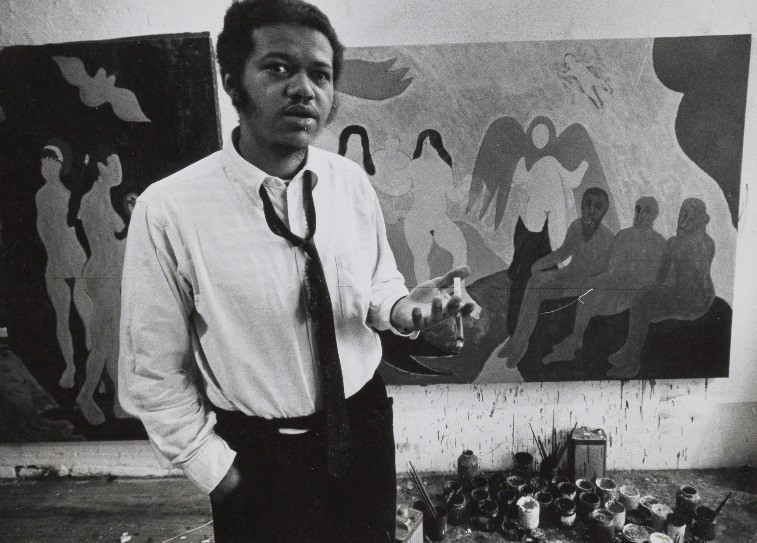 In celebration of the 2016 grand opening of the Smithsonian's National Museum of African American History and Culture, the Archives of American Art presents selections from recently acquired collections highlighting the cultural contributions and the personal stories of African Americans in the art world. The exhibition will be on view from Sept. 23 through March 21, 2017, in the Lawrence A. Fleischman Gallery at the Smithsonian's Donald W. Reynolds Center for American Art and Portraiture. Included in the exhibition are letters, photographs, notebooks and other rare materials that bring new perspectives to the history of American art in the 20th century, from Paris and New York, to Chicago and Alabama. These records reveal the ways in which artists, dealers and scholars experienced and contended with racism, explored cultural identity and aesthetics, navigated the art market, and were shaped by—and helped shape—major social and political currents.
In 1956, the Archives acquired the papers of self-taught painter Horace Pippin. Since then, the Archives has continued to expand its holdings of papers and oral histories of African American artists, including Emma Amos, Romare Bearden, Jacob Lawrence, Alma Thomas, Henry Ossawa Tanner, Kehinde Wiley and scores of other collections, documenting African American art from mid-19th century to the present.
Recent acquisitions bring nuance to the struggles, accomplishments and contributions of African American artists. The papers of activist artist Jeff Donaldson underscore how artists were motivated by the civil rights movement to form collectives such as the Organization of Black American Culture and the African Commune of Bad Relevant Artists. Painter Charles Searles' personal writings and drawings explore themes in black visual culture, dance and music. Bob Thompson's photographs and exhibition files show his interests in both contemporary jazz and Italian Renaissance painting, and public art projects by Moses Ros demonstrate how an artist of Dominican descent negotiated African, African American, Latino and Caribbean identities in his work.
The records of Galerie Darthea Speyer are a trove of information on painter Beauford Delaney's years in Paris, while the records of the Cinque Gallery chronicle early efforts to support emerging black artists in the United States. An unconventional art dealer, Jimmy Hedges helped elevate self-taught artists to national notice.  His records include thousands of color snapshots that document his visits with artists and their artworks. Finally, art historian Judith Wilson's voluminous files contain her research notes, interviews with artists and correspondence, featuring an impressive roster of feminist and African American scholars and artists of the 20th century.
About the Archives of American Art
Founded in 1954, the Archives of American Art fosters advanced research through the accumulation and dissemination of primary sources, unequaled in historical depth and breadth, that document more than 200 years of the nation's artists and art communities. The Archives provides access to these materials through its exhibitions and publications, including the Archives of American Art Journal, the longest-running scholarly journal in the field of American art. An international leader in the digitizing of archival collections, the Archives also makes more than 2 million digital images freely available online. The oral history collection includes more than 2,200 audio interviews, the largest accumulation of in-depth, first-person accounts of the American art world. For more information, visit the Archives website at www.aaa.si.edu.
# # #
SI-440-2016