Archives of American Art Exhibition Celebrates Jackson Pollock's Enduring Legacy
January 25, 2012
News Release
Addthis Share Tools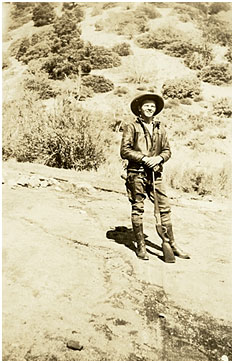 The Smithsonian's Archives of American Art presents "Memories Arrested in Space, a centennial tribute to Jackson Pollock from the Archives of American Art." The exhibition will open on the centennial of Jackson Pollock's birthday, Jan. 28, at the Lawrence A. Fleischman Gallery in the Smithsonian's Donald W. Reynolds Center for American Art and Portraiture and remain on view through May 15. It is guest curated by Helen A. Harrison, director of the Pollock-Krasner House and Study Center.
"Memories Arrested in Space" celebrates Pollock's life (1912–1956) and his enduring legacy through family photographs, correspondence, rare printed material and writings. "Jackson Pollock rewrote the modern art rule book—in fact, he burned it," said Harrison. "Fortunately, he didn't also burn his personal papers, which his wife, painter Lee Krasner, donated to the Archives. They're a virtual scrapbook of Pollock's life and career. What better way to celebrate his 100th birthday than to share some of the highlights with the public?"
The exhibition, its title taken from Pollock's own poetic statement about his work, explores Pollock's career through the lens of his unique personal papers. Pollock's singular history is richly documented in the Archives of American Art, principally in the papers donated by Krasner (1908–1984), but also in those of his eldest brother Charles (1902–1988) and of his friends and associates.
Born in Wyoming and raised in Arizona and California, Pollock moved to New York City in 1930. Working through a variety of influences, from Regionalism and Surrealism to Native American art, he arrived at a unique pictorial language that he called "direct painting," which created the visual equivalent of emotions and sensations. The technique was also a channel for positive energy and an antidote to Pollock's own internal conflicts. Although Pollock's career was short—a mere 12 years between his first solo exhibition and his last—he decisively shaped the direction of painting after World War II. Both his art and his personality fulfilled the needs of an era that questioned traditional cultural values and hailed individual freedom of expression.
Exhibition highlights include letters from his art teachers, Hans Hofmann and Thomas Hart Benton, his fellow artists, including Clyfford Still, and memorable writings by ardent fans and derisive critics. Iconic photographs of Pollock at work in his studio taken by Hans Namuth, and rare snapshots of Pollock hiking with his brothers and relaxing on the beach with Clement Greenberg and Helen Frankenthaler, offer a dynamic impression of Pollock's life and work.
Public Program
Harrison will give a free gallery talk Thursday, March 8, at 2 p.m. in the Lawrence A. Fleischman Gallery.
The Archives of American Art is the world's pre-eminent resource dedicated to collecting and preserving the papers and primary records of the visual arts in America. For more information, visit the Archives website at www.aaa.si.edu.
# # #
SI-35-2012
Media Only
Mary Savig
(202) 633-7959