Archives of American Art Announces Public Opening of André Emmerich Gallery Records
July 30, 2012
News Release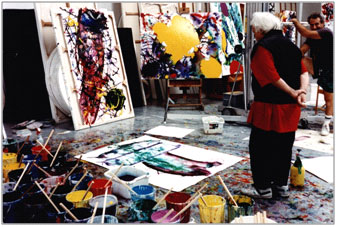 The Smithsonian's Archives of American Art has completed the Leon Levy Foundation Project to organize, arrange, preserve and describe the André Emmerich Gallery records and personal papers. This three-year effort resulted in a Web-searchable online finding aid that provides unprecedented access to information about the day-to-day workings of one of the most influential art galleries in the 20th century.
The André Emmerich Gallery records and personal papers, dating from 1925 to 2008, are voluminous. The collection measures well over 300 linear feet and is rich with detailed documentation of the history of Color Field painting, abstraction and monumental sculpture in the global art market. Included are extensive correspondence files; appointment books; administrative and subject files; exhibition files; artists files and accounts; inventory, sales, purchase and consignment records; chronological files; financial and legal records; printed materials; original artwork; and photographic and audiovisual materials, as well as the personal papers of Emmerich regarding his friendships with artists and his private estate and sculpture park, Top Gallant Farm, in Pawling, N.Y. Artists such as Anthony Caro, Sam Francis, Helen Frankenthaler, David Hockney, Hans Hofmann, Morris Louis, Kenneth Noland, Jules Olitski and Beverly Pepper are particularly well represented throughout the collection.
This project, made possible with funding from the Leon Levy Foundation, significantly advances research by providing accurate and in-depth information about a complex collection of interrelated, unique materials that are central to the history of art in last half of the 20th century. The Archives of American Art is the world's pre-eminent resource dedicated to collecting and preserving the papers and primary records of the visual arts in America. For more information, visit the Archives website at www.aaa.si.edu.
The Leon Levy Foundation, founded in 2004, is a private, not-for-profit foundation created from the estate of Leon Levy, an investor with a longstanding commitment to philanthropy. The Foundation's overarching goal is to support scholarship at the highest level, ultimately advancing knowledge and improving the lives of individuals and society at large. For more information visit the foundation's website at http://leonlevyfoundation.org/.
# # #
SI-339-2012