Archives of American Art Announces Naming of the Terra Foundation Center for Digital Collections
January 19, 2012
News Release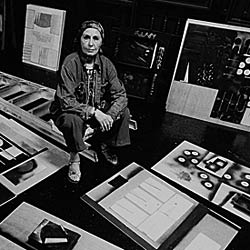 The Smithsonian's Archives of American Art has announced the naming of the Terra Foundation Center for Digital Collections. This virtual repository holds a substantial cross-section of the Archives' most significant holdings and can be found online at http://www.aaa.si.edu/collections/online.
Included are more than 100 archival collections and an image gallery of more than 12,000 individually cataloged documents representing more than 1,000 linear feet and 1.5 million files. Visitors can access everything from the papers of Romare Bearden, Isabel Bishop, Marcel Breuer, Alexander Calder, Joseph Cornell, Thomas Eakins, Louise Nevelson, Jackson Pollock and Lee Krasner, and Hiram Powers to the records of the 1913 Armory Show, Betty Parsons Gallery, Jacques Seligmann & Co. and the Carnegie Institute, Museum of Art. Content is continuously added making the Terra Foundation Center for Digital Collections an important and ever-expanding resource in the field of American art history.
The repository is named in recognition of 10 years of support by the Terra Foundation for American Art: it has awarded the Archives two five-year grants totaling $6.6 million. The most recent grant of more than $3 million was announced in April 2011. The Terra Foundation Center is the first such named repository for both the foundation and the Archives.
"We are deeply grateful to the Terra Foundation's commitment to our digitization project," said Liza Kirwin, acting director of the Archives. "Their support has been transformational, giving us the means to make millions of items freely available online." "The Archives' digitization project allows people around the globe unprecedented access to its remarkable collections," said Terra Foundation President and CEO Elizabeth Glassman. "Making research resources on American art available worldwide is one of the Terra Foundation's highest priorities. We are honored to provide key support for this important endeavor."
The Archives of American Art is the world's pre-eminent resource dedicated to collecting and preserving the papers and primary records of the visual arts in America. For more information, visit the Archives website at www.aaa.si.edu. This wholly redesigned website provides unprecedented access to online exhibitions, oral history transcripts, audio highlights, Encoded Archival Description finding aids and guides, digital images and collections, and other research services.
Established in 1978, the Terra Foundation for American Art is dedicated to fostering the exploration, understanding and enjoyment of the visual arts of the United States. For more information visit the Terra Foundation website at www.terraamericanart.org.
# # #
SI-2-2012