Annual Art Market Held in Washington and New York City
Both Locations Will Feature Traditional and Contemporary Art for Purchase
November 7, 2013
News Release
Addthis Share Tools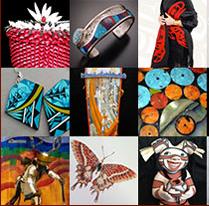 The Smithsonian's National Museum of the American Indian will host its annual Native Art Market Saturday and Sunday, Dec. 7–8, at its Washington, D.C., and New York City locations. Featuring the work for more than 35 Native artists at each venue, the two-day event includes traditional and contemporary jewelry, basketry, paintings, sculpture, beadwork, photography and fine apparel from across the hemisphere. The market, located in the Potomac Atrium at the museum's Washington location, will be open 10 a.m. to 5:30 p.m. each day. The market at the New York location will be open 10 a.m. to 5 p.m. in the Diker Pavilion. Admission is free.
The Washington location will host a members' preview Friday, Dec. 6, from 4:30 to 7:30 p.m. No tickets required.
In New York, a ticketed preview event featuring Native food and an artist talk with Lois Sherr Dubin, author of The History of Beads and North American Indian Jewelry and Adornment, will be held Friday, Dec. 6, from 4:30 to 7:30 p.m. Tickets start at $35 and can be purchased by calling  (212) 514-3750 or visiting the museum's website.
A complete listing of participants for the Native Art Market in Washington and New York are listed on the museum's market website.
Artists were selected through a competitive process. In Washington, the museum is located on the National Mall at Fourth Street and Independence Avenue S.W.  It is open each day from 10 a.m. to 5:30 p.m. (closed Dec. 25). It is accessible from L'Enfant Plaza Metrorail station via the Maryland Avenue/Smithsonian Museums exit.
In New York City, the museum is located at One Bowling Green, across from Battery Park. It is open every day from 10 a.m. to 5 p.m. and Thursdays until 8 p.m. Call (212) 514-3700 for general information and (212) 514-3888 for a recording about the museum's public programs. By subway, the museum may be reached by the 1 to South Ferry, the 4 or 5 to Bowling Green or the R or W to Whitehall Street.
For more information, visit www.AmericanIndian.si.edu.
# # #
SI-450-2013