Anniversary Projects Span the Aerial Age to the Digital Age
National Air and Space Museum Marks Kitty Hawk Anniversary
December 11, 2013
News Release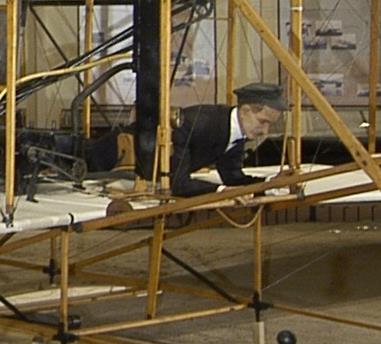 ---
---
On Dec. 17, 2003, America looked back a century to celebrate the first successful flight of a powered airplane. Ten years after the Centennial of Flight, Orville and Wilbur Wright's achievement at Kitty Hawk is still inspiring creativity and provoking discussion. In time for this year's anniversary, the Smithsonian's National Air and Space Museum is introducing 21st-century projects that relate to the brothers and their 1903 Flyer, one of the Smithsonian's most iconic artifacts, and shining a light on its popular exhibition, "The Wright Brothers & The Invention of the Aerial Age."
The exhibition, which opened in conjunction with the centennial and features the Flyer as its centerpiece, reveals how two seemingly ordinary people accomplished a feat that eluded others. Wilbur (1867-1912) and Orville (1871-1948) Wright's creative process and inventive method are presented in comprehensive terms that refute the notion the brothers were simply two bicycle makers who got lucky. Interactive mechanical models in the gallery offer visitors hands-on examples of the brothers' design concepts. Full-size reproductions of a Wright experimental kite and two experimental gliders are also displayed. Other artifacts include school report cards, the stopwatch used to time the first powered flights and wood and fabric from the airplane that was carried to the moon in 1969 by Apollo 11. The gallery is represented through an online exhibition.
A number of projects have been introduced recently that affirm the enduring popularity and relevance of the Wrights and their accomplishment. These include:
Programs and a Web activity are also planned to observe the anniversary. "The Wright Brothers," part of the Super Science Saturday series at the museum's Steven F. Udvar-Hazy Center, will take place from 10 a.m. until 2 p.m. Dec. 14. On Dec. 11, Crouch and Jakab participated in a Reddit AMA, where anyone could join the conversation and ask the curators anything on the subject of the Wright brothers.
A figure sometimes mentioned in association with the history of early flight—Gustave Whitehead—will be the subject of a 15-minute talk by Tom Crouch Dec. 19.  Whitehead was one of a dozen or so individuals who claimed to have flown before the Wright brothers. In the past year, the debate has resurfaced due to the publication of a website, "Gustave Whitehead—Aviation Pioneer." The German-born mechanic claimed to have flown on two occasions before the Wrights did: in 1901 in Bridgeport, Conn., and in 1902, when he stated he flew seven miles over Long Island Sound. The story dates back to the 1930s and the publication of the book, The Lost Flights of Gustave Whitehead. The Smithsonian has published a number of documents related to the discussion; most of these can be found in its online newsroom under "First in Flight, Still the Wrights."
The National Air and Space Museum building on the National Mall in Washington, D.C., is located at Sixth Street and Independence Avenue S.W. The museum's Steven F. Udvar-Hazy Center is located in Chantilly, Va., near Washington Dulles International Airport. Attendance at both buildings combined was 8 million in 2012, making it the most visited museum in America. The museum's research, collections, exhibitions and programs focus on aeronautical history, space history and planetary studies. Both buildings are open from 10 a.m. until 5:30 p.m. every day (closed Dec. 25).
# # #
SI-494-2013