Andrew Young's Portrait to Be Presented at the Smithsonian's National Portrait Gallery
Public Lecture and Book Signing Saturday, April 30
April 20, 2011
News Release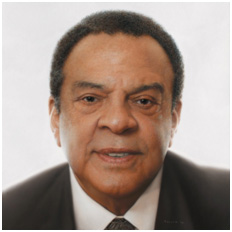 A portrait of Ambassador Andrew Young has been donated to the National Portrait Gallery and will be on view beginning April 30 in the museum's permanent collection exhibition "The Struggle for Justice." The museum will hold two public events in conjunction with the portrait's installation: a public talk and book signing with Young, and a book signing and author talk with Paula Young Shelton for her book Child of the Civil Rights Movement. The portrait was donated by Jack H. Watson Jr., chair of the museum's commission.
A graduate of Howard University and Hartford Theological Seminary, Young was a close associate of Martin Luther King Jr. He was the first black congressman from the Deep South elected since Reconstruction, the first black U.S. ambassador to the United Nations and served two terms as mayor of Atlanta. Ambassador Young is also the recipient of the Presidential Medal of Freedom and France's Legion d'Honneur, as well as many other national and international honors.
"Ambassador Young is a giant in the civil rights movement and a groundbreaking politician, and he continues to work for those who are disenfranchised around the world," said Martin Sullivan, director of the National Portrait Gallery. "His work has influenced policy and culture and fits well in the museum's efforts to tell this story through our exhibition 'The Struggle for Justice.'"
Ross R. Rossin (born Rossin Raytchev Raykov), a trained and established artist in his native Bulgaria, has worked in Atlanta since coming to the United States in 2001. The photorealistic painting of Young displays the subject's features against a stark white backdrop, giving the viewer an unadulterated image of a man whose face shows a lifetime of experience.
An Afternoon with Andrew Young
Saturday, April 30; 2 p.m.
Ambassador Young will be joined by his longtime friend Jack H. Watson Jr. Young will discuss his role in the American civil rights movement. Watson is chair of the National Portrait Gallery's Commission. He served as chief of staff for former President Jimmy Carter and is a fellow Atlantan.
Following the program, Young will sign his recent book, Walk in My Shoes: Conversations between a Civil Rights Legend and His Godson on the Journey, written with Kabir Sehgal with a foreword by former President Bill Clinton.
Paula Young Shelton
Saturday, April 30; 5 p.m.
Book signing and author talk
Shelton, daughter of Ambassador Young, will discuss and sign her children's book, Child of the Civil Rights Movement.
The National Portrait Gallery
The Smithsonian's National Portrait Gallery tells the history of America through the individuals who have shaped its culture. Through the visual arts, performing arts and new media, the
Portrait Gallery portrays poets and presidents, visionaries and villains, actors and activists whose lives tell the American story.The National Portrait Gallery, part of the Donald W. Reynolds Center for American Art and Portraiture, is located at Eighth and F streets N.W., Washington, D.C. Smithsonian Information: (202) 633-1000; (202) 633-5285 (TTY). Website: npg.si.edu.
# # #
SI-182A-2011