Anacostia Community Museum Brings Back Its Iconic Juneteenth Festival
Featuring Fly Zyah, Dev Duff, Too Much Talent Band and The Experience Band
June 1, 2023
News Release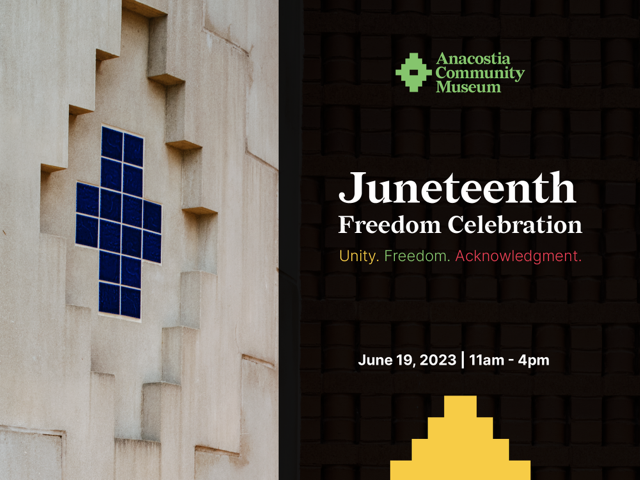 The Smithsonian's Anacostia Community Museum is bringing back its iconic Juneteenth Festival with a daylong celebration from 11 a.m. to 4 p.m. Monday, June 19, titled "Unity. Freedom. Acknowledgment." Visitors will experience a full day of live music performances and can Double Dutch with the DC Retro Jumpers. There will be an Urban Gardening workshop with Derek Thomas, East of the River trivia, quilt making activities and more.
"The Smithsonian's Anacostia Community Museum has been celebrating Juneteenth since 1989 and was instrumental in the city's observance of the holiday," said Melanie Adams, director of the museum. "The museum worked with Louis Hicks, a Texan who had moved to D.C., to create the Juneteenth festival. They celebrated with musical performances then, and we're bringing that tradition back this year."
The Juneteenth Main Stage, curated together with PorchFest DC-Southeast Edition and hosted by BeMo Brown, will feature music by some of Washington, D.C.'s top local artists, including Fly Zyah, Dev Duff, Too Much Talent Band and The Experience Band. Music selections between sets provided by DJ Farrah Flosscett.
In addition to the music and many activities planned for the day, visitors can also visit the museum's newest exhibition, "To Live and Breathe: Women and Environmental Justice in Washington, D.C." This exhibition celebrates ordinary women making extraordinary changes as they have led the environmental justice movement in their communities.
Juneteenth is the celebration of the emancipation of Texas slaves, who were formally notified of their freedom June 19, 1865. Although Congress abolished slavery in the District of Columbia in April and the territories in June 1862, it took over two years for the news to reach Texas. The celebration of freedom demonstrates the richness of African American culture and a strong spirit of community. Since 1865, Juneteenth has been celebrated in communities throughout the country with a variety of activities, including picnics, parades, music, speeches, dancing and baseball. The tradition was brought to the Washington area by Texans and formalized into a celebration at the Anacostia Community Museum in 1989.
The Juneteenth Festival is free and open to the public. Registration is recommended.
About the Museum
Founded in 1967, the Smithsonian's Anacostia Community Museum shares the untold and often overlooked stories of communities furthest from justice in the greater Washington, D.C., region. In celebrating stories of resiliency, joy and strength, the museum inspires those who visit to translate their ideas into action. For more information about the museum, visit anacostia.si.edu or follow the museum on Twitter, LinkedIn, Facebook and Instagram.
###
SI-184-2023