Anacostia Community Museum Announces Summer Hours
Extended Weekend Hours Begin July 8
June 28, 2023
News Release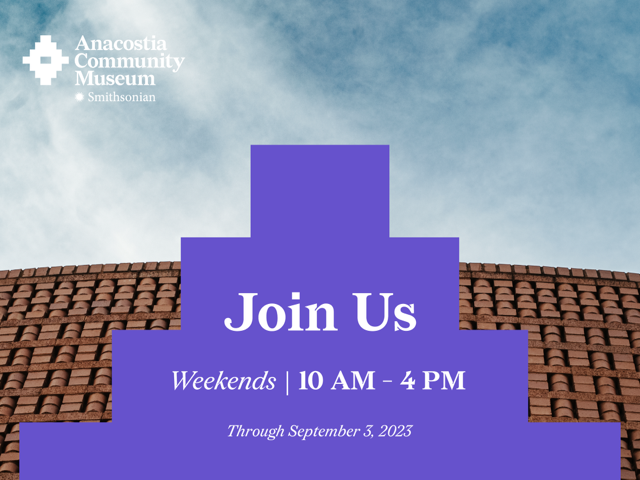 The Smithsonian's Anacostia Community Museum is extending its weekend hours this summer. Beginning July 8, the museum will be open 10 a.m. until 4 p.m. on Saturdays and Sundays. Weekday hours remain the same, 11 a.m. until 4 p.m., Monday through Friday. Extended weekend hours will be in effect until Sept. 3.
This summer, the FRESHFARM ACM Farm Stand continues every Saturday from 10 a.m. to 2 p.m. on the museum's outdoor plaza. It features homegrown produce from Barajas Produce and additional fruits and vegetables that Barajas aggregates from neighboring farms. Other weekend programs include the museum's long-standing community gardening program, Community Gardening, that offers family and adult gardening programs; Craftivist Circle, where crafty hands and like minds come together to create change and crochet projects; and Culture Queen, a family-based monthly program celebrating people through storytelling and craft activities. A full list of events is available.
Additionally, visitors can explore the current exhibition, "To Live and Breathe: Women and Environmental Justice in Washington, D.C." Through the stories of local women of color, they will learn why women have become leaders in the environmental justice movement, which pathways they have taken to arrive there and how their efforts benefit local communities and the Earth. Visitors can explore how women have drawn on a long history of activism and advance environmental justice efforts not only in Washington, D.C., but across the country and beyond. "To Live and Breathe" remains on view until Jan. 7, 2024.
The museum is located at 1901 Fort Pl. S.E.
# # #
SI-213-2023