Aircraft Carrier: Guardians of the Sea 3D Opens at the National Air and Space Museum May 26
May 25, 2017
News Release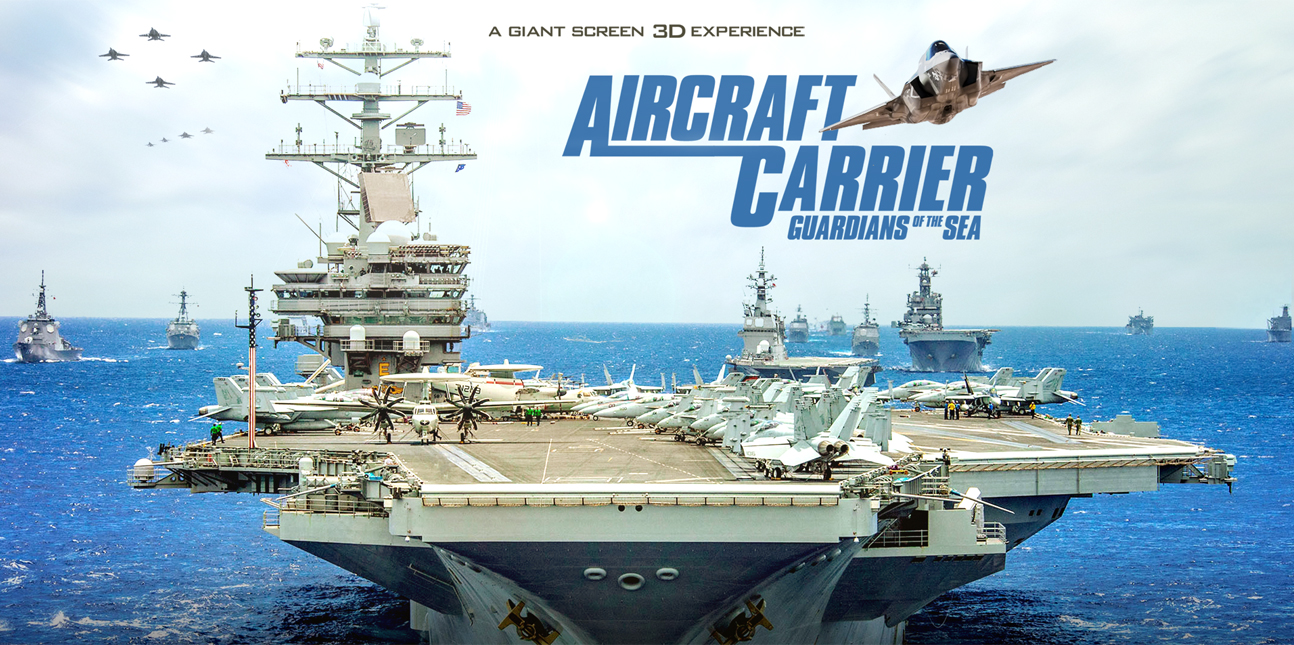 Smithsonian Theaters will launch its latest giant-screen film, Aircraft Carrier: Guardians of the Sea 3D, Friday, May 26, at the Lockheed Martin IMAX Theater in the Smithsonian's National Air and Space Museum on the National Mall. It will be followed shortly thereafter at the Airbus IMAX Theater at the museum's Steven F. Udvar-Hazy Center in Chantilly, Va.
Aircraft Carrier: Guardians of the Sea 3D is a large-format, immersive film packed with adrenaline-laced visuals and human stories that pay stirring tribute to the crucial role modern aircraft carriers play in maintaining the freedom of the seas and keeping the sea lanes open for commerce.
With unprecedented logistical assistance and access by the U.S. Navy, Aircraft Carrier places audiences aboard a Nimitz-class carrier during the Rim of the Pacific (RIMPAC) maritime exercises. RIMPAC provides a striking visual context for the size and scale of the maritime drill—with over 22 nations and 55 ships participating—along with 92 fixed-wing aircraft and helicopters on the carrier itself, a veritable city at sea (a population of nearly 5,000 crew). Aircraft Carrier brings audiences not only aboard the carrier, but also into the Navy's newest submarines and cockpit of the Navy's next-generation aircraft, the F-35. Viewers get a unique perspective on these new stealth fighters, observing their advanced technology systems and experiencing the pilot's perspective as it catapults off from the carrier into flight.
Aircraft Carrier features stunning and extensive computer generated visualizations of the technology that makes a carrier the preeminent maritime vessel—the apex warship—in naval history. The film presents a gender and ethnically diverse group of capable young sailors successfully applying a wide range of STEM disciplines.
"The RIMPAC exercise recognizes the international cooperation necessary to maintain peace in a complex world," said Stephen Low, the film's award-winning director of Fighter Pilot and 16 other IMAX documentary classics. "It is certainly a film that should engage all viewers—from military history enthusiasts and engineering buffs to fans of futuristic technology…and, of course, giant-screen movie audiences that love being transported to a place they are unlikely to ever go themselves."
Aircraft Carrier, directed by veteran IMAX-format filmmaker Stephen Low (Rocky Mountain Express, Fighter Pilot), is produced and distributed by K2 Communications and Giant Screen Films.
Tickets for Aircraft Carrier: Guardians of the Sea 3D are available at the Lockheed Martin Theater box office or online at www.si.edu/imax. Groups of 10 or more may reserve tickets now for any date during the film's expected run by calling 866-868-7774 or visiting www.si.edu/groupsales. The Lockheed Martin Theater is located on the main floor of the National Air and Space Museum building on the National Mall in Washington, D.C., which is located at Sixth Street and Independence Avenue S.W.
# # #
SI-309-2017