Ai Weiwei's "Fragments" on View at the Sackler May 12
Chinese Artist Explores History and Change in a Monumental Installation
April 25, 2012
News Release
Addthis Share Tools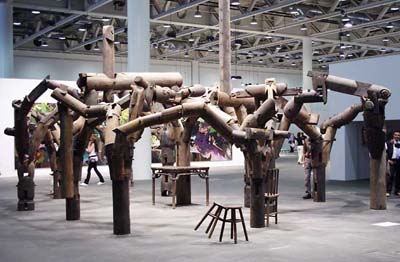 Wood from dismantled temples finds its next incarnation as part of Chinese artist Ai Weiwei's massive "Fragments," on view in the Smithsonian's Arthur M. Sackler Gallery May 12–April 7, 2013. "Fragments" explores the role of tradition amidst the reality of living in today's rapidly changing China.
The work, on view for the first time in the U.S., is part of "Perspectives," the Sackler's contemporary art series.
"'Fragments' reminds us that our relationship to the past and notions of heritage is fluid and complex," said Carol Huh, associate curator for contemporary art and curator of the "Perspectives" series. "The ironwood began life hundreds of years ago; Ai has brought these disassembled pieces together in a new context, as if defining another stage in the evolution of this ancient material."
An apparently "irrational structure," "Fragments" is in fact a delicately balanced network of ironwood pillars and beams realized with the assistance of a team of traditional Chinese carpenters. Recalling the long history of "post and beam" construction in China, the installation is held together by an elaborate system of joinery whose seemingly random posts anchor a scale outline of China. Using salvaged materials and reimagining them in a radically different form, Ai highlights the simultaneously destructive and creative process that is constantly transforming the Chinese landscape.
"Perspectives: Ai Weiwei" is presented concurrently with a retrospective of Ai's works at the Smithsonian's Hirshhorn Museum and Sculpture Garden. "Zodiac Heads" opened at the Hirshhorn April 19, and will be followed by the exhibition "Ai Weiwei: According to What?" in October 2012, on view through February 2013.
About the Artist
Born in 1957 in Beijing, Ai has become one of the most renowned artists of his time. His practice spans a range of media, from sculpture, installations, video and photography to architecture. Many of his projects are characterized by a collaborative approach and public engagement that express his deep concern for the role of art in Chinese society and the everyday lives of individuals. Ai has been the subject of numerous exhibitions and publications worldwide. During recent years, Ai's relationship with the Chinese authorities has been contentious. In 2011, he was detained and put under house arrest until June 2012.
About the Series
"Perspectives: Ai Weiwei" is organized by the Freer and Sackler galleries as part of the critically acclaimed "Perspectives" exhibition series. Since 2003, "Perspectives" has presented works by internationally recognized contemporary artists, such as Yayoi Kusama, Do-ho Suh, Anish Kapoor, Hiroshi Sugimoto, Simryn Gill, Cai Guo Qiang and Y.Z. Kami.
About the Sackler
The Arthur M. Sackler Gallery, located at 1050 Independence Avenue S.W., and the adjacent Freer Gallery of Art, located at 12th Street and Independence Avenue S.W., are on the National Mall in Washington, D.C. Hours are 10 a.m. to 5:30 p.m. every day, except Dec. 25, and admission is free. The galleries are located near the Smithsonian Metrorail station on the Blue and Orange lines. For more information about the Freer and Sackler galleries and their exhibitions, programs and other events, the public may visit www.asia.si.edu. For general Smithsonian information, the public may call (202) 633-1000.
# # #
SI-189-2012