2013 Smithsonian Online Education Conference Series Presents Two Sessions on Ecology and Student Citizen Scientists
Conferences Will Highlight Biodiversity and Urban Waterways
August 28, 2013
News Release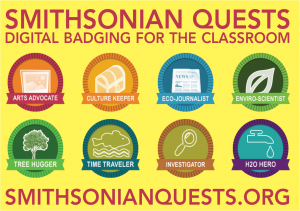 The Smithsonian Center for Learning and Digital Access is hosting two online education conferences for teachers and students Sept. 11 and Oct. 9 that offer a look into how Smithsonian conservation biologists are helping save frog populations from extinction and ways to facilitate citizen scientist projects for students. The sessions bring together experts from the Smithsonian Conservation Biology Institute and educators from the Smithsonian Tropical Research Institute in Panama and the Smithsonian's Anacostia Community Museum.
Sharon Ryan from the Smithsonian Tropical Research Institute and Brian Gratwicke from the Smithsonian Conservation Biology Institute will present "In the Face of Extinction: Thinking about the Biodiversity and Conservation of Frogs" Wednesday, Sept. 11, at 1 p.m. EDT. They will share why frogs are disappearing around the world, why it matters, and what Smithsonian scientists and their partners are doing to prevent mass extinction.
Tony Thomas from the Anacostia Community Museum will present "Urban Waterways: Thinking about Environmental Stewardship"Wednesday, Oct. 9, at 4 p.m. EDT. He will provide an overview of the citizen scientist program, which helps students take an active role in environmental stewardship and justice issues, and describe how to empower students to accept ownership and responsibility for the waterways in their region. 
Each online conference features experts presenting free digital-learning resources and teaching strategies that educators can use to explore cross-curricular lessons with their students. Experts also will respond to participant questions. Students will have the opportunity to earn the "Frog Follower" and "Waterways Watcher" badges through the Smithsonian Quests (smithsonianquests.org) digital badge program, which supports self-directed, project-based learning that is flexible for anywhere, anytime exploration.
The 2013 Smithsonian Online Education Conference Series provides an online space for teachers and students to engage with Smithsonian experts and make connections from textbooks to today's world. For more information, visit http://smithsonianeducationconferences.org/.
About Smithsonian Institution
Founded in 1846, the Smithsonian is the world's largest museum and research complex, consisting of 19 museums and galleries, the National Zoological Park and nine research facilities. There are 6,000 Smithsonian employees and 6,500 volunteers. Approximately 30 million people from around the world visited the Smithsonian in 2012. The total number of objects, works of art and specimens at the Smithsonian is estimated at 137 million.
# # #
SI-345-2013