2013 Smithsonian Online Education Conference Series Presents "Civil Rights—Historical Legacies and Today's Achievements"
Conferences Will Highlight African American Civil Rights and Women of Achievement in the Early Republic
February 8, 2013
News Release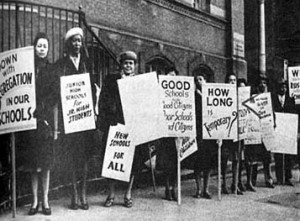 The Smithsonian Center for Education and Museum Studies is hosting "Civil Rights—Historical Legacies and Today's Achievements," two online education conferences for teachers and students Feb. 13 and March 13. Each session is presented by Smithsonian experts who will respond to participant questions and present free digital-learning resources from the Smithsonian and teaching strategies that educators can use to explore cross-curricular subjects with their students. Of special interest is the introduction of two associated digital-badge opportunities through the Smithsonian Quests program: the Community Historian and the Portrait Reader.
Christopher W. Wilson and Naomi Coquillon from the Smithsonian's National Museum of American History will present "Civil Rights: From Lincoln to Today," Wednesday, Feb. 13, at 1 p.m. EST. The conference will focus on Lincoln's famous decree and the work that many leaders, ordinary citizens and students undertook during the civil rights movement to make a difference in today's world. Participants will also discuss the historical context behind these events and learn more about the ways the Smithsonian is keeping this history alive.
Briana Zavadil White from the Smithsonian's National Portrait Gallery will present "A Will of Their Own: Judith Murray and Women of Achievement in the Early Republic," Wednesday, March 13, at 4 p.m. EST. Participants will be introduced to Murray and seven other remarkable women and learn about the efforts to gain gender equality in America. Women's contributions in relation to the women's rights movements that came after, from the late-19th century to today, will also be discussed.
The 2013 Smithsonian Online Education Conference Series provides an online interactive learning environment for teachers and students to engage with Smithsonian experts and make real-world connections. For more information, visit http://smithsonianeducationconferences.org/. The series is produced by LearningTimes and funded by an internal Smithsonian Youth Access grant.
About Smithsonian Institution
Founded in 1846, the Smithsonian is the world's largest museum and research complex, consisting of 19 museums and galleries, the National Zoological Park and nine research facilities. There are 6,000 Smithsonian employees and 6,500 volunteers. Approximately 30 million people from around the world visited the Smithsonian in 2012. The total number of objects, works of art and specimens at the Smithsonian is estimated at 137 million.
# # #
SI-45-2013