"Thomas W. Haas We All Fly"
October 6, 2022
Media Fact Sheet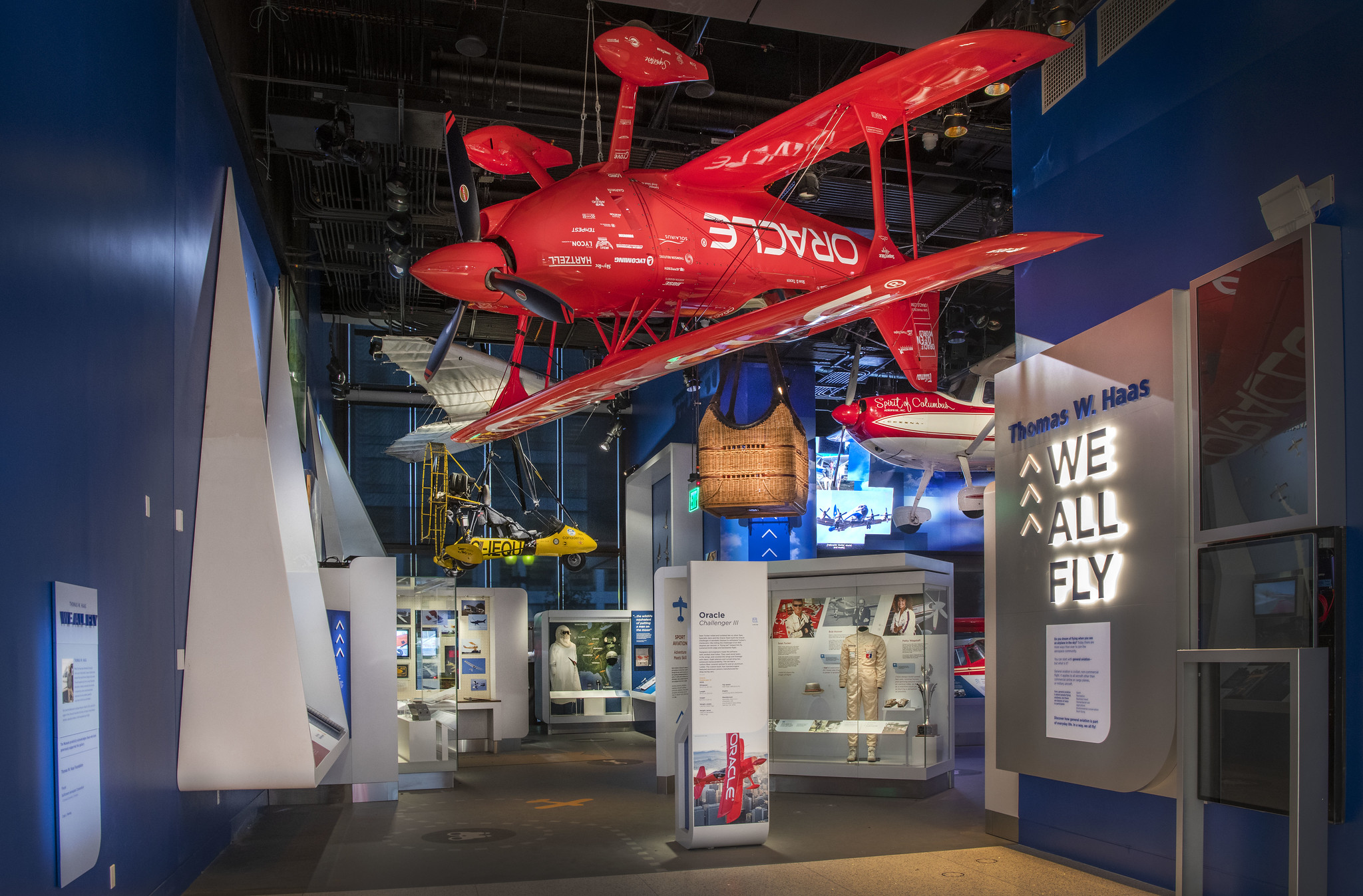 Title: "Thomas W. Haas We All Fly" 
Opening: Oct. 14, 2022; National Air and Space Museum, Washington, D.C., Gallery 106
The new "Thomas W. Haas We All Fly" exhibition celebrates general aviation by telling the story of its many aspects in the United States and how it affects the average visitor's daily life. It will cover diverse themes, including sport, private, business, humanitarian and utility flight. The exhibition will strive to inspire the next generation of pilots and reveal the diversity of career opportunities available in general aviation, beyond jobs in the cockpit. 
Highlights include:
Fulton Airphibian: The Civil Aviation Administration made Robert Fulton Jr.'s Airphibian the first approved roadable aircraft. Fulton could drive it from airport to town as a car by disengaging the wings, tail and propeller. To fly again, he rejoined the two sections by moving three locking levers and reattached the propeller.
Challenger III, Sean Tucker's Aerobatic Aircraft 218: The Challenger III is a custom-built biplane that uses the latest advancements in technology from aerobatic performance airplanes, drag racing and sailing.
Lear Jet 23: The first Lear Jet flew in October 1963. This second prototype, Model 23 N802L, flew 1,127 hours and 864 flights as a test aircraft. Successor airplanes, now called Lear Jets, flew to speed and distance records with pilots like astronaut Neil Armstrong and Clay Lacy.
Dale White's Silk Scarf and Fabric Helmet: Black aviator Dale White wore these objects during his flying career. White was best known for his 1939 "Goodwill Flight" with Chauncey Spencer from Chicago to Washington, D.C., to make the case for African American participation in flight training, both civilian and military.
Jerrie Mock's Cessna 180 "Spirit of Columbus": Jerrie Mock became the first woman to complete a solo flight around the world in this Cessna 180. 
Bell 47B Helicopter: The Bell 47B is the first helicopter on permanent display at the museum's building on the National Mall in nearly three decades. In 1946, the U.S. Civil Aeronautics Authority awarded the first civil helicopter certification to the Model 47. 
Larry's Lawn Chair: Forty-two helium-filled weather balloons lifted Larry Walters in this aluminum lawn chair from San Pedro, California, July 2, 1982. Walters reached 16,000 feet, drifting into the controlled airspace surrounding Los Angeles International Airport. 
Jerrie Cobb's Wooden Animals: In 1963, at age 32, Jerrie Cobb stunned family and friends by becoming a missionary in South America. For more than 50 years, the record-setting pilot and former corporate executive transported supplies and medicine to the people of the Amazon rainforest. An Indigenous tribe member presented these hand-carved animals and handmade baskets to Cobb.
Orbis Flying Eye Hospital Surgery Simulator: Orbis International's Flying Eye Hospital is a fully accredited ophthalmic teaching hospital on board an airplane. The airplane is outfitted with exam and treatment rooms, an operating center and classrooms. This simulator for cataract surgery allows local doctors to train, test their competency and learn to manage complications without harming patients. 
Amazon "Hybrid" Delivery Drone: Part helicopter, part airplane, Amazon's Mk23M-1 hybrid drone was used in 2016 to test its aerial home-delivery service. Combining lifting rotors for vertical take-off with air foils for longer range, this drone could deliver packages weighing up to 5 pounds to homes within approximately 10 miles of a distribution center.
2 Draganflyer X4-ES and Controller: On May 9, 2013, a Canadian Mountie used the infrared camera in this quadcopter drone to locate an accident victim who wandered away from a crash in sub-zero weather.
Flying Cars Interactive: Visitors are encouraged to think about what they would want in a flying car and learn about real flying cars. A touchscreen quiz matches them with a flying car, which they can learn more about.
Fly a Trike Interactive: In this gesture-based interactive, visitors steer an ultralight trike by moving their bodies and seeing their decisions reflected on a screen in front of them.
Sponsors: Thomas W. Haas Foundation, Flexjet, Gulfstream Aerospace/A General Dynamics Company, Craig L. Fleming
"We All Fly" Curator Bios
Dorothy Cochrane 
Dorothy Cochrane curates the collections of general aviation aircraft; flight materiel (specifically personal, business and utility production aircraft); aerial cameras; and the history of general aviation and women in aviation. She holds a Bachelor of Arts in history from Ithaca College and a Master of Education from Lehigh University. Cochrane is the co-author of The Aviation Careers of Igor Sikorsky and is the responsible curator for the Barron Hilton Pioneers of Flight Gallery, and the General Aviation, Business Aviation, Aerobatic Aviation and Aerial Camera exhibit stations and cases. Cochrane is also the speaker coordinator for the museum's General Electric Aviation Lecture Series and Charles A. Lindbergh Memorial Lecture. She earned her private pilot license in 1994. Cochrane is a member of the Aircraft Owners and Pilots Association and the Experimental Aircraft Association. She is currently writing a book on Anne Morrow Lindbergh.
Russell Lee
Russell Lee is a curator in the museum's Aeronautics Department. He curates two collections: sport and recreation aircraft and the collection of Japanese World War II aircraft. There are 42 sport and recreation aircraft and they represent enthusiasts, builders and pilots who have constructed and flown numerous designs and configurations. The collection of 20 Japanese aircraft is one of the largest in the world. In addition to collecting, interpreting and documenting those artifacts, Lee has participated in preserving and restoring various museum aircraft. Lee is co-curator on the "We All Fly" and Commons exhibition teams. He has also curated exhibits about sport aviation, aeronautical pioneers and aviation technology. Lee earned a Bachelor of Arts from Southwest Texas State University and a Master of Arts from George Mason University.
# # #
SI-314-2022