National Portrait Gallery 50th Anniversary: Advance Exhibition Schedule
February 1, 2018
Media Fact Sheet
Addthis Share Tools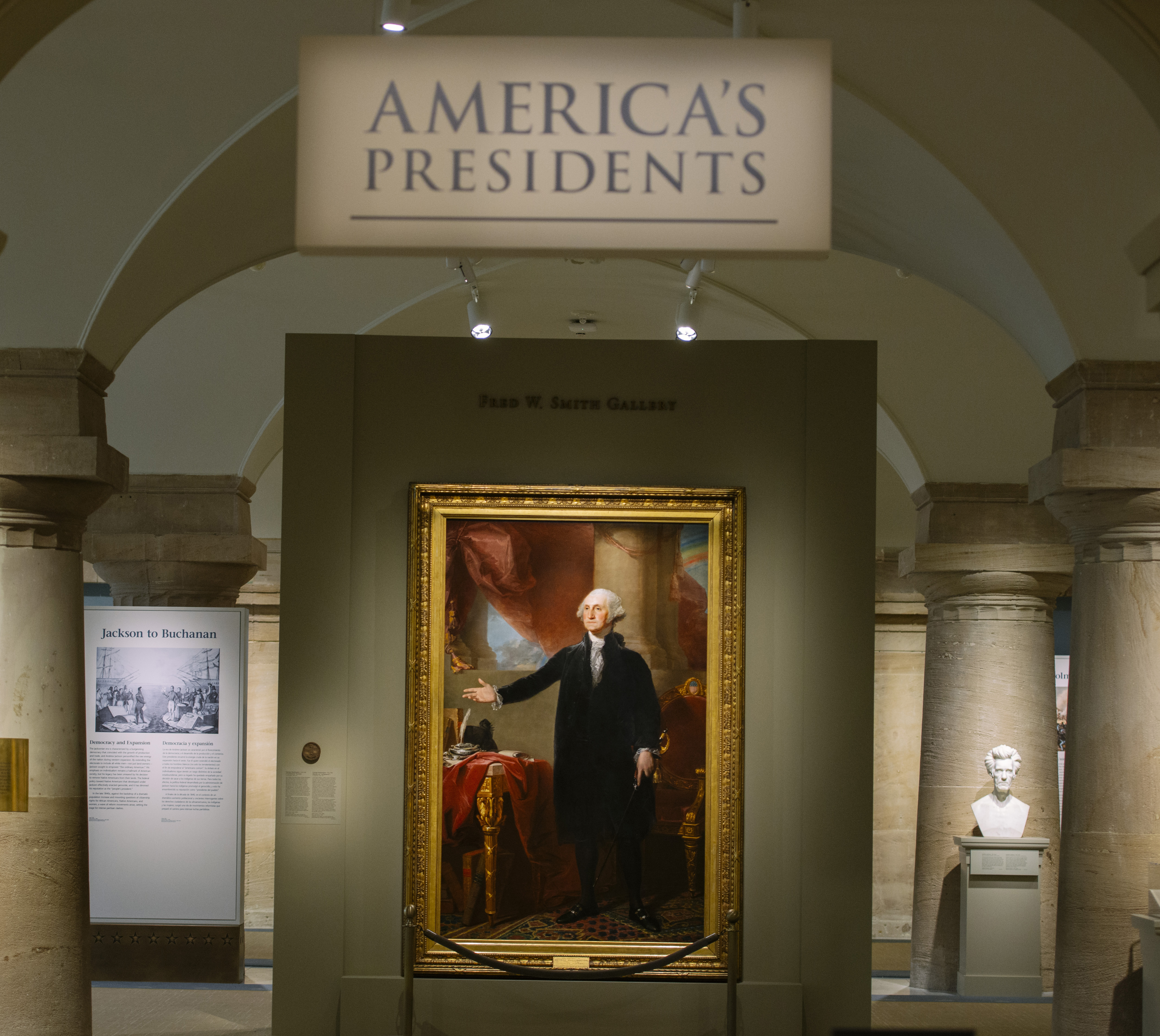 Version en español
The Smithsonian's National Portrait Gallery celebrates its 50th anniversary with a series of exhibitions designed to catalyze conversations about the museum's traditional role of defining national "significance" and collecting portraiture. Highlights include commissioning the museum's portraits of President Barack Obama and Mrs. Michelle Obama by artists Kehinde Wiley and Amy Sherald, "The Sweat of Their Face," a moving exhibition about American workers, and "UnSeen: Our Past in a New Light" (opening March 23) featuring work by contemporary artists Ken Gonzales-Day and Titus Kaphar.
Opening in May, "Black Out: Silhouettes Then and Now" will explore the art form's rich historical roots and consider the relevance of silhouettes today with the inclusion of work by four women contemporary artists, and opening in June, "Daguerreotypes: Five Decades of Collecting," will show iconic figures from history.
"One Year: 1968, an American Odyssey" will highlight the seminal moments and influencers of 1968—the year of the museum's public debut—at a time when Americans were questioning issues of leadership, citizenship and nationhood. The anniversary season will conclude with "Eye to I: Self-Portraits from 1900 to Today," an exhibition of artist self-portraits exploring the significance of self-portraiture in relation to the country's history from traditional oil painting to the recent "selfie" phenomenon. In conjunction with all these exhibitions, the museum will continue to tell America's personal stories in the permanent collection galleries—enhanced by "gifts that transform"—including donations of leading works of art in honor of the anniversary.
Exhibitions are presented at the National Portrait Gallery, located at Eighth and F streets N.W.
Note to editors: Select high-resolution images are available for publicity upon request. Additional information is available at http://npg.si.edu/about-us/press-room.
Future Special Exhibitions
UnSeen: Our Past in a New Light: Ken Gonzales-Day and Titus Kaphar
March 23–Jan. 6, 2019
As the first contemporary exhibition of the Portrait Gallery's anniversary, "UnSeen: Our Past in a New Light: Ken Gonzales-Day and Titus Kaphar," reveals how people of color have been missing in historical portraiture and their contributions to the nation's past rendered equally invisible. Focused around work by two contemporary artists using vastly different pictorial styles—Ken Gonzales-Day and Titus Kaphar—the exhibition brings to the forefront visual representations of women, African Americans, Native Americans, Latino Americans and other minorities to amend America's historical narrative. Reworking traditional oil paintings, prints,
marble and plaster busts, historic photos and pieces of material culture, Gonzales-Day and Kaphar aim to expose mainstream cultural biases and social constructions of race.
"UnSeen: Our Past in a New Light: Ken Gozanles-Day and Titus Kaphar" continues the National Portrait Gallery's Portraiture Now series and is curated by the Portrait Gallery's Curator of Latino Art and History Taína Caragol and Curator of Prints, Drawing and Media Arts Asma Naeem.
Black Out: Silhouettes Then and Now
May 11–March 10, 2019
Silhouettes—cut-paper profiles—were a hugely popular form of portraiture in the 19th century, offering virtually instantaneous likenesses of everyone from Presidents to those who were enslaved. The exhibition "Black Out: Silhouettes Then and Now" explores this relatively unstudied art form by examining its rich historical roots and considering its forceful contemporary presence. The exhibition features works from the Portrait Gallery's extensive collection of silhouettes, such as those by Auguste Edouart, who captured the likenesses of such notable figures as John Quincy Adams and Lydia Maria Child, and, at the same time, the exhibition reveals how contemporary artists are reimagining silhouettes in bold and unforgettable ways.
Highlights of the historical objects include a double-silhouette portrait of a same-sex couple and a rarely seen life-size silhouette of a 19-year-old enslaved girl, along with the bill of her sale from 1796. With both historical and contemporary explorations into the silhouette, "Black Out" reveals new pathways between the past and present, particularly with regard to how people can reassess notions of race, power, individualism, and, even, their digital selves. This exhibition is curated by Asma Naeem, curator of prints, drawing and media arts at the National Portrait Gallery.
Daguerreotypes: Five Decades of Collecting
June 15–June 2, 2019
The 2018 installation of the Daguerreian Gallery celebrates the National Portrait Gallery's golden anniversary by highlighting 50 years of daguerreotype collecting by the museum. Included will be portraits of such iconic figures as activist and reformer Dorothea Dix, entrepreneur and showman P.T. Barnum with Tom Thumb, Seneca Chief Governor Blacksnake, U.S. Navy Commodore Matthew C. Perry and artist Alfred Waud. This exhibition is curated by Ann Shumard, senior curator of photographs, Portrait Gallery.
One Year: 1968, an American Odyssey
June 29–May 19, 2019
This one-room exhibition that looks back at an extraordinarily important and memorable time in American history. The show relies on some 30 portraits to tell the story of 1968, the year when the Vietnam War reached a turning point, the Civil Rights Act was signed into law and television sets displayed everything from the Olympic Games to the first manned orbit of the moon. It was also the year that the Portrait Gallery first opened its doors. The subjects featured in the exhibition continue to resonate. Martin Luther King Jr., Robert F. Kennedy, President Lyndon B. Johnson and President Richard M. Nixon will share the walls with portraits of cultural figures such as Peggy Fleming, Arthur Ashe, Aretha Franklin, Jimi Hendrix and Janis Joplin. Depictions of other significant personalities, notably the Apollo 8 astronauts, will round out the exhibition. The major artists who will be represented include Roy Lichtenstein, Irving Penn, George Tames, David Levine, Robert Vickrey and Louis Glanzman. Several original artworks that made the cover of Time magazine will be displayed. This exhibition is curated by Portrait Gallery Historian James Barber.
Celebrate: Leonard Bernstein's 100th Birthday
Aug. 24–Sept. 23
Aug. 25 marks the 100th birthday of the late American composer, conductor, author, music lecturer and pianist Leonard Bernstein. The Portrait Gallery will recognize the anniversary by displaying a portrait of Bernstein—a promised gift to the museum—from Aug. 24 through Sept. 23 in the Portrait Gallery's "Celebrate" space in the first-floor north gallery.
Eye to I: Self-Portraits from 1900 to Today
Nov. 4–Sept. 8, 2019
Drawing from the National Portrait Gallery's vast collection of self-portraits, this exhibition will explore and think critically about how American artists have chosen to portray themselves over the past two centuries.
As people are confronted each day with "selfies" via social media, and as they continue to explore the fluidity of contemporary identity, this is an opportune time to reassess the significance of self-portraiture in relation to the country's history. The exhibition will feature more than 75 works, including self-portraits by Imogen Cunningham, Elaine de Kooning, Jacob Lawrence, Lucas Samaras, Fritz Scholder, Roger Shimomura and Shahzia Sikander, among others. This exhibition is curated by Brandon Fortune, chief curator, Portrait Gallery.

# # #
SI-104-2018