National Portrait Gallery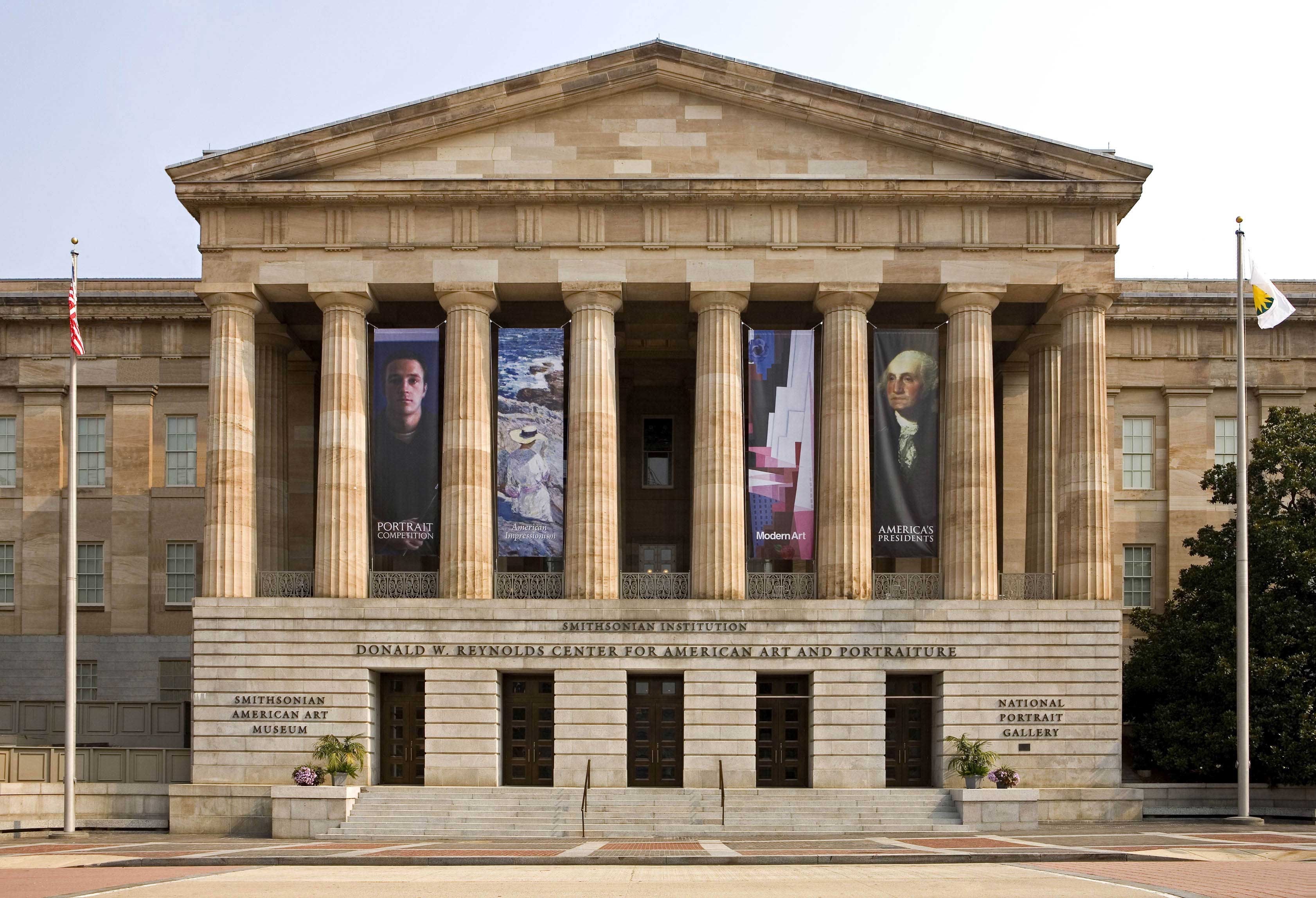 Director: Kim Sajet
Total Full-time Employees: 74
Annual Budget (federal and trust) FY 2017: $11 million
Approximate Number of Artworks: 23,000
Visitors (2018): 2.3 million
Background
The National Portrait Gallery tells the multifaceted story of the United States by presenting portrayals of individuals who have shaped the nation's history and culture. The museum was established by an Act of Congress in 1962 and opened to the public on October 7, 1968. For more than 50 years, the museum has upheld its mission to collect and display images of "men and women who have made significant contributions to the history, development and culture of the people of the United States."
The Portrait Gallery's collection holds more than 23,000 works, including the only complete collection of presidential portraits outside the White House. The National Portrait Gallery is housed in the Donald W. Reynolds Center for American Art and Portraiture, a National Historical Landmark that formerly served as the Old Patent Office in the 19th century. The Portrait Gallery shares its home, known for its Greek revival architecture and elegant Robert and Arlene Kogod Courtyard designed by Foster+Partners, with the Smithsonian American Art Museum in Washington, D.C. The National Portrait Gallery is a bilingual institution and part of the Smithsonian Institution.
Collection
The National Portrait Gallery's collection includes a wide range of paintings, sculptures, photographs, drawings and media art. A catalog of the collection is available online. Prominent works include:
"Lansdowne" portrait of George Washington by Gilbert Stuart, oil on canvas (1796)
(acquired in 2001; restored and re-presented in September 2017)
President Abraham Lincoln by Alexander Gardner ("cracked-plate" portrait), albumen silver print (1865)
President John Quincy Adams by Philip Haas (1843 daguerreotype—the earliest known photographic likeness of a U.S. President)
President John F. Kennedy by Elaine de Kooning, oil on canvas (1963)
President Barack Obama by Kehinde Wiley, oil on canvas (2018)
John Brown by Augustus Washington, daguerreotype (c. 1846–47)
Pocahontas by unidentified artist, after Simon van de Passe, oil on canvas (after 1616)
Frederick Douglass by an unidentified photographer, ambrotype (1856)
Mary Cassatt by Edgar Degas, oil on canvas (c. 1880–84)
Gertrude Stein by Jo Davidson, terra-cotta (1922–23)
Charlie Chaplin by Edward Steichen, gelatin silver print (1925)
Frida Kahlo by Magda Pach, oil on canvas (1933)
Ethel Waters by Beauford Delaney, pastel on paper (1940)
Beauford Delaney by Georgia O'Keeffe, pastel on paper (1943)
John Coltrane by Roy DeCarava, gelatin silver print (1961)
Muhammad Ali by Yousuf Karsh, gelatin silver print (1970)
Eunice Kennedy Shriver by David Lenz, oil and acrylic on canvas (2009)
Hank Aaron by Ross R. Rossin, oil on canvas (2010)
Michelle Obama by Amy Sherald, oil on linen (2018)
Henrietta Lacks by Kadir Nelson, oil on linen (2017) (co-acquisition with the National Museum of African American History and Culture)
Julie Packard by Hope Gangloff, acrylic on canvas (2019)
In addition, the Portrait Gallery collection holds:
More than 1,600 portraits of U.S. Presidents
5,450 glass-plate negatives from the studios of Mathew Brady
Original artwork for over 2,000 Time magazine covers
17 museum-commissioned portraits
Exhibitions and Programs
The National Portrait Gallery has a vigorous schedule of special exhibitions that rotate throughout each year. Long-term permanent collection exhibitions include "America's Presidents," "American Origins," "Twentieth-Century Americans" and "The Struggle for Justice." The "One Life" gallery is dedicated to a focused biography of one individual, while the museum's third-floor mezzanines along the building's historic Great Hall—at one time the largest room in America —contain the exhibitions "Bravo!" and "Champions," which are devoted to those in the performing arts and sports, respectively.
In 2006, the Portrait Gallery launched its "Portraiture Now" series, which is dedicated to contemporary artists. "IDENTIFY: Performance Art as Portraiture" followed in 2015. In 2016, the Portrait Gallery became the first Smithsonian museum to host a choreographer-in-residence with the Dana Tai Soon Burgess Dance Company. Every three years, the Portrait Gallery organizes the Outwin Boochever Portrait Competition to encourage the next generation of artists working in portraiture. Finally, it presents several special exhibitions throughout the year, many of which tour museums nationwide.
The National Portrait Gallery commissions significant new work, including portraits of past presidents and first ladies upon their departure from office, and public art and performances celebrating the genre of portraiture. In 2014, the National Portrait Gallery commissioned Cuban American artist Jorge Rodríguez-Gerada's "Out of Many, One," a temporary installation that stretched across more than six acres of the National Mall.
The National Portrait Gallery offers a variety of programs, including free lectures, hands-on educational activities, performances and films. The Portrait Gallery also presents teacher workshops, family days and guided tours—including accessible programs—for millions of people each year. Most recently, the museum launched "Portraits," a new podcast series hosted by director Kim Sajet, to further engage the public in the stories of art, history and biography.
About the Museum
The National Portrait Gallery is located at Eighth and F streets N.W., Washington, D.C. Smithsonian Information: (202) 633-1000. Connect with the museum at npg.si.edu, Facebook, Instagram, Twitter and YouTube.
# # #
SI-242-2019