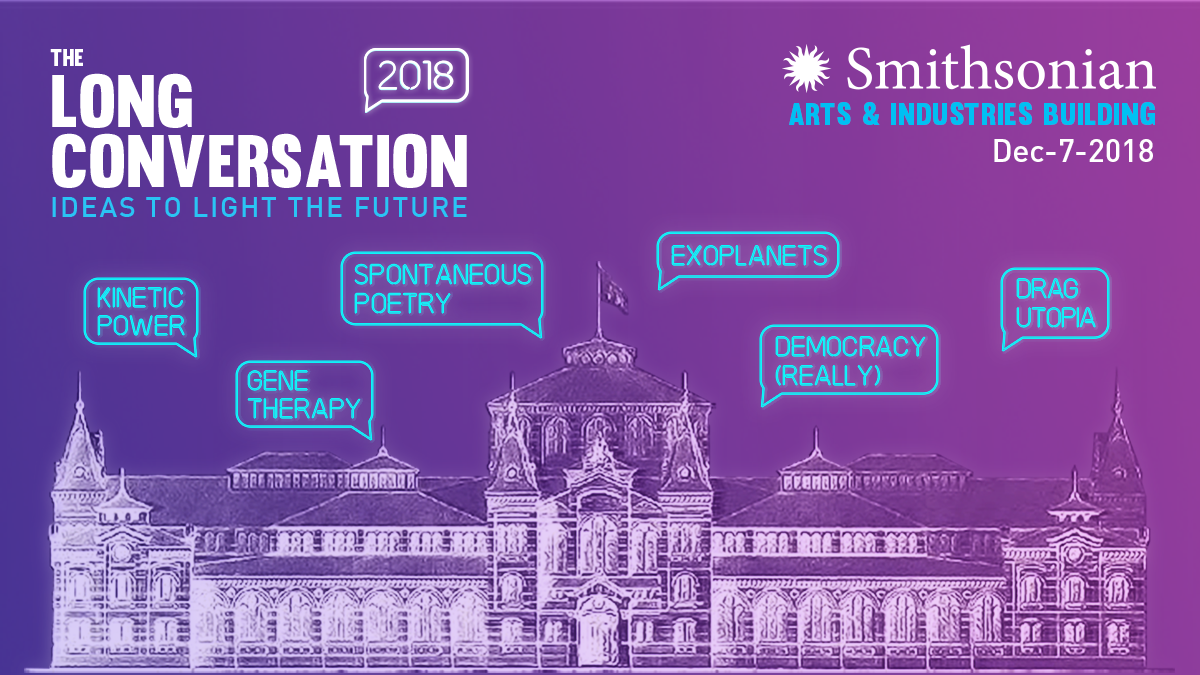 What do award-winning actor Alfre Woodard, The New York Times' David Brooks, drag queen Sasha Velour, NASA's head of the mission to Jupiter, and one of the world's leading cancer surgeons have in common? They all know something that makes them hopeful for the future. Come find out what at this one-of-a-kind event in one of the most beautiful buildings on the National Mall.
The Long Conversation is an epic creative marathon between artists, scientists and other big thinkers that's guaranteed to leave you feeling better about the future. Once a year, NASA astronauts, Grammy-winning musicians, tech CEOs, poets, inventors and more converge in the historic Arts & Industries Building for a lively 8-hour relay race of surprising conversations around the best ideas on the horizon. No moderators. No slides. All chemistry.
Sound crazy? It is—also uplifting, surprising, and a ton of fun
A magical setting: Come for the inspiration, stay for the surprise performances, art installs from Julia Buntaine Hoel, Phaan Howng, McCormack and Figg, and Gabriel Mellan, and the rare chance to explore the soaring halls of the Arts & Industries Building, America's first national museum.
Food and drink: Don't miss the locally-sourced gourmet menu from James Beard Award winner Spike Gjerde of A Rake's Progress at the Line Hotel and drinks from DC's small-batch, women-owned distillery Republic Restoratives. 
LEAD SPONSOR
Watch Select 2018 Conversations