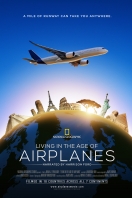 Living in the Age of Airplanes is a story about how the airplane has changed the world. Not long ago,traveling between continents was a migration. Now, on any given day, 100,000 flights transport people and things between any two points on Earth in a matter of hours.

Filmed in 18 countries across all 7 continents, it explores the countless ways aviation affects our lives (even when we don't fly). With stunning visuals, the film renews our appreciation for one of the most extraordinary and awe-inspiring aspects of the modern world.

The documentary is produced and directed by Brian J. Terwilliger (One Six Right), narrated by Harrison Ford,and features an original score by Academy Award® winning composer James Horner (Avatar, Titanic).
• Closed Captioning • Descriptive Audio