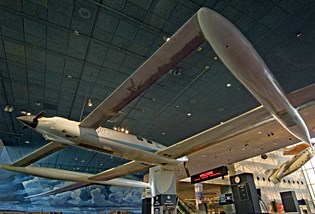 National Air and Space Museum
Independence Avenue and 6th Street, SW
Washington, DC
1st Floor, Independence Ave. Lobby (South Lobby), Gallery 108 Floor Plan
This exhibit features the Voyager, the first aircraft to fly around the world without landing or refueling. The flight was made by pilots Dick Rutan and Jeana Yeager December 14-23, 1986.
The Teledyne engine used to propel the aircraft is included, as well as a video showing the building of the plane and its test flights. The plane was designed by Burt Rutan.
The exhibit also presents the history of round-the-world flights and the evolution of aircraft construction techniques, including a sample of the Voyager's composite material.