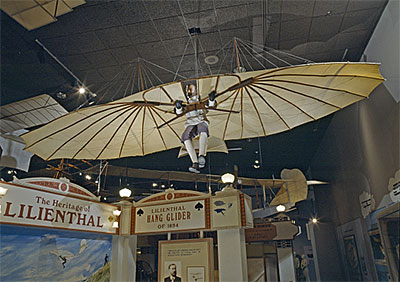 National Air and Space Museum
Independence Avenue and 6th Street, SW
Washington, DC
1st Floor, West Wing, Gallery of Early Flight, Gallery 107 Floor Plan
This re-created indoor aeronautical exhibition (circa 1913) highlights the early history of the airplane from antiquity through the first decade of powered flight. Period furnishings, talking mannequins, and ragtime music combine to bring back the special ambience of the time.
Highlights include:
Wright 1909 Military Flyer: the world's 1st military airplane
Lilienthal glider: glider that inspired Wilbur and Orville Wright, 1894
1912 Curtiss Pusher
1914 Bleriot XI monoplane
Ecker Flying Boat
Theater with video presentation.