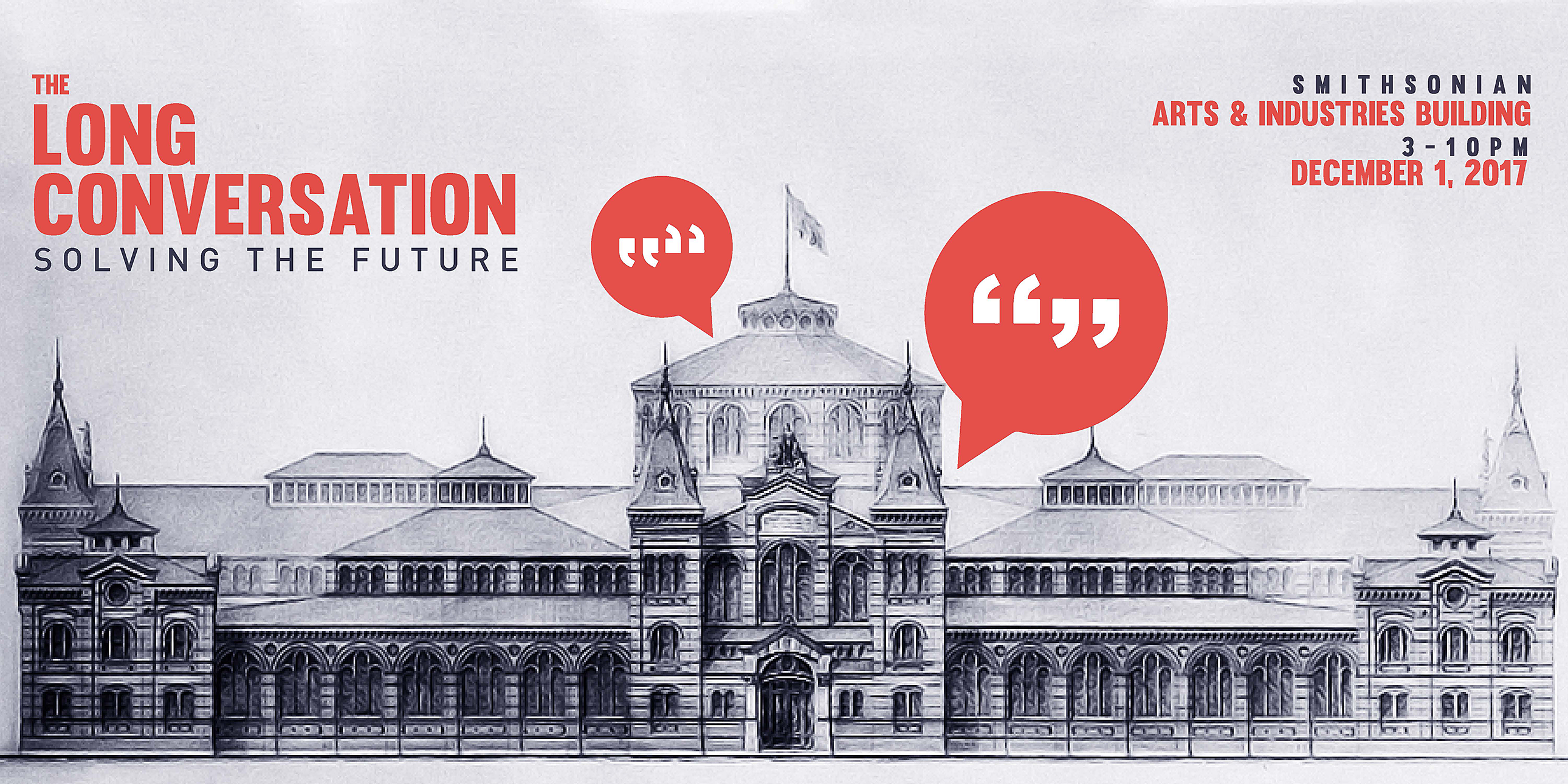 The Long Conversation features more than 25 leaders from the arts and sciences in a relay of two-person dialogues focused on what makes them optimistic about the future. From edible houses to Maker nurses to art activism, learn about the best ideas on the horizon in 15-minute rolling conversations between surprising conversationalists from all walks of life.
WHAT SHOULD I BRING? 
Please bring a valid photo ID and your ticket. Do not worry if you don't have a printer at home—we will accept both mobile and printed tickets. Please consider leaving large bags at home; there will only be a limited and unsupervised coat check for the event. 
IS IT OK IF THE NAME ON MY TICKET OR REGISTRATION DOESN'T MATCH THE PERSON WHO ATTENDS? 
The name on your ticket should match the name on your ID. If you wish to give your ticket away to someone else, don't worry—you can access your registration information and update the ticket holder's name and email address at any time. The link to edit your registration information can be found in your confirmation email.
GETTING HERE 
There is no public parking facility at the Smithsonian on the National Mall. 
The closest Metro stations are L'Enfant Plaza ( Blue, Orange, Silver, Green, and Yellow lines} and Smithsonian (Blue, Orange, and Silver lines}. The primary WMATA buses are 30N, 305, 32, 34, 36, 16X, 39, A9, and the Circulator. 
ARRIVE WHEN IT'S YOUR TIME 
About 15 minutes before your designated entry time, go to the West Hall of the Arts & Industries Building (entrance right off the Mall next to the Smithsonian Castle, through the garden} and look for signs. You'll enter the building and line up to enter the theater. After or during your session, you'll also have the chance to explore other Halls in the Arts & Industries Building or enjoy food and beverages at the pop-up cafe. 
PHOTOGRAPHY 
We love your photography, as long as it is for personal, non-commercial use. Don't forget to share them with your friends and networks using #thelongconvo and #artsandindustriesbuilding ! But no flash please. Also no tripods, monopods, or selfie sticks. 
ACCESSIBILITY 
The Arts & Industries Building proudly supports the Americans with Disabilities Act (ADA) and welcomes visitors of all abilities by providing accessible entrances. 
WIFI 
Free WiFi access is available to all visitors. Connect to the "si-visitor" network and follow the instructions provided. 
RESTROOMS 
Restrooms (family friendly and wheelchair accessible} are located in the North Hall of the Arts & Industries Building. 
SECURITY 
For everyone's safety, all visitors need to pass through security. You will be greeted upon entry by security personnel who will conduct a thorough but speedy hand-check of all bags, briefcases, purses, and containers. And you know better than to try to bring in any of these prohibited items, right? 
Aerosol cans, including pepper spray and Mace
Food and drinks
Bags larger than 11 x 15 x 13in
Pets
Placards, signs, and banners
Scissors
Selfie sticks, tripods, and monopods
Tools
Weapons and knives (duh!)