National Museum of the American Indian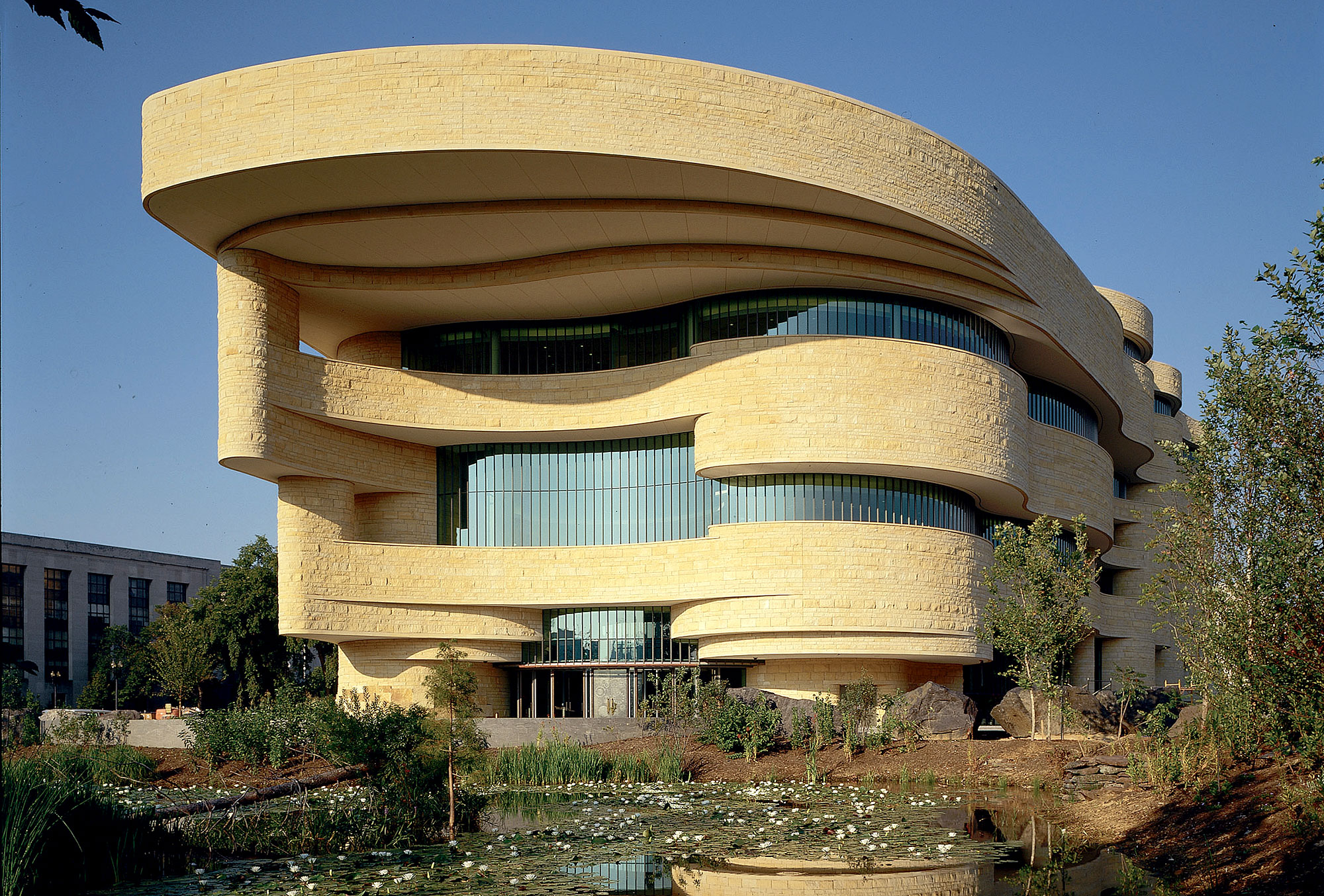 4th Street and Independence Avenue, SW
Washington, DC
10 a.m. to 5:30 p.m. daily
Closed December 25
About
The National Museum of the American Indian cares for one of the world's most expansive collections of Native objects, photographs, and media, covering the entire Western Hemisphere from the Arctic Circle to Tierra del Fuego. The museum's sweeping curvilinear architecture, its indigenous landscaping, and its exhibitions, all designed in collaboration with tribes and communities, combine to give visitors from around the world the sense and spirit of Native America.
Highlights
Who We Are, introductory film in the Lelawi Theater. Check out the spiral lunar pattern that marks the museum's south entrance, and don't miss the award-winning Mitsitam Cafe featuring a Native-inspired menu.
Mitsitam Café
"Mitsitam" means "Let's Eat!" in the Native language of the Delaware and Piscataway peoples. The café enhances the museum experience by offering Native-inspired cuisines from five regions of the Western Hemisphere, including the Northern Woodlands, South America, the Northwest Coast, Meso America and the Great Plains.Tamales, roasted turkey, grilled salmon, homemade seasonal soups, buffalo burgers, Indian fry bread, a seasonal variety of aqua fresca and desserts.
11 a.m. to 5 p.m. 
(Limited menu after 3 p.m. off season)

Visit the Mitsitam Café website

Mitsitam Espresso Bar
Pastries and casual fare from the cafe's repertoire, plus Tribal Grounds Coffee—organic, fair-trade coffee grown by indigenous farmers and imported, roasted, and provided to the museum by the Eastern Band of Cherokee.
10 a.m. to 5 p.m.

Free visitor Wi-Fi
Discounts are available for Smithsonian Members with a valid membership card.
We encourage the use of public transportation.
Metro Station: L'Enfant Plaza (Smithsonian Museums exit); Blue, Green, Orange, Silver, or Yellow line
There is no public parking facility for Smithsonian museums on the National Mall. Limited 3-hour metered parking and commercial lots are available—see parking map. Reserved parking near the museums can be purchased in advance through ParkWhiz.
Note: ParkWhiz is a third-party vendor (ParkWhiz Privacy Policy).