Imaging Application Demos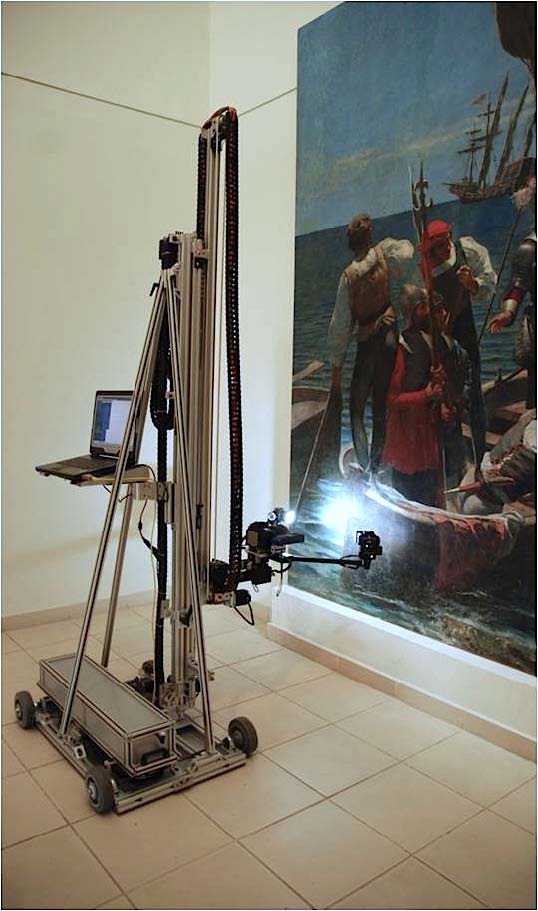 Photo from Gixcel
High-Resolution Gigapixel Imaging of Fine Art and other Cultural Heritage
January 26, 2012
GSS (Gixcel Smart System, patent pending) is a high-speed robotic system for the extremely high-resolution digitization of two-dimensional art. At a constant density of 1000 ppi, the system can digitize each square meter of art in less than 10 minutes. It can digitize art in open public galleries, without disruption to patrons. Gixcel's proprietary software ensures perfectly focused, perfectly stitched, color calibrated final images. All the software necessary to host the images on in-house servers (or public websites) is available. This permits (among other features) advanced searching and zooming. An "in-development" version of the system for digitization of fragile paper art and documents will be discussed, as well as future projects such as high definition infrared imaging.
Opportunities for commercialization of the ultra-high definition images will also be presented.
The presentation will be followed by a live demonstration.
Conservation and other Cultural Heritage Applications for Augmented Reality
Second|Site LLC: Taylor McDonald (President, Co-Founder), Andrew Carroll (Vice President, Co-Founder), and Matthew Carroll (Creative Director, Co-Founder)
February 21, 2012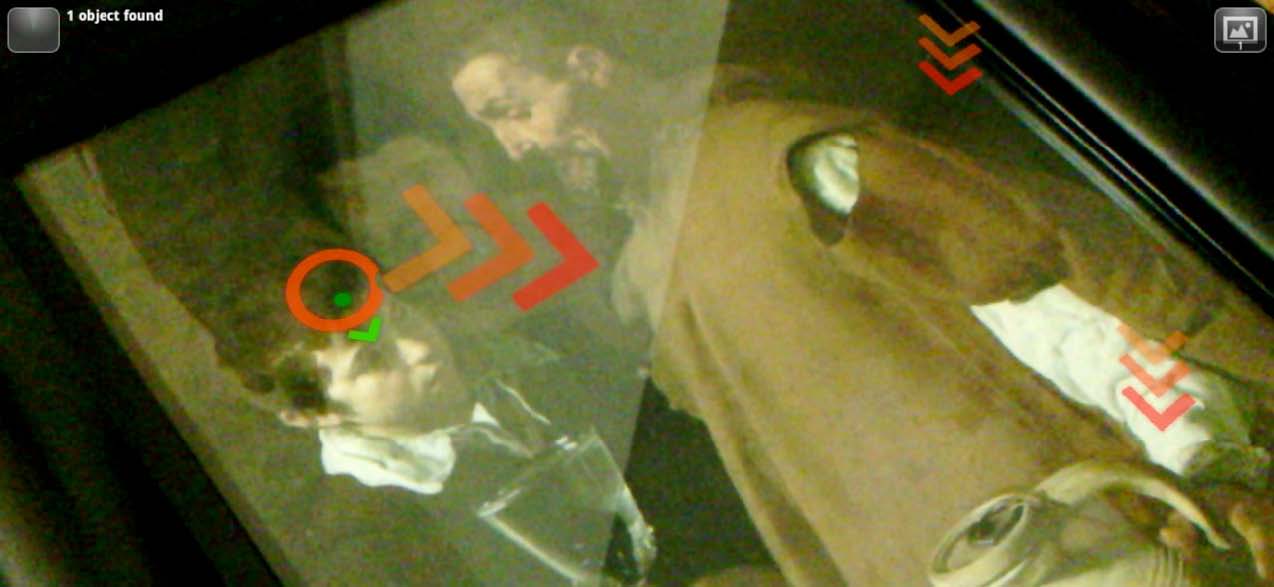 Photo from Second|Site
A new interface will be presented that allows museum professionals to visualize condition documents through the live camera view of a tablet. This is especially useful for registrars, conservators, and collection mangers.
Second|Site LLC, a Chattanooga, TN, based augmented reality (AR) and geospatial company, has initiated the development of an augmented reality user interface (ARUI) that uses normal sensors contained in mobile smart devices to aid in the important and critical task of completing reports.
Augmented reality allows a user to view digital information that is overlaid in a realworld view. Though a relatively new term to the mass media, AR is common technology that most people have seen or experienced. Casual observers of a football game on television recognize that the yellow first-down line is simply digital data that is only visible through the lens of the television. Modern tablets and phones have similar capabilities thanks to the suite of sensors such as a GPS, compass, gyroscope, accelerometer, camera and broadband connections. The smart mobile device is the new lens for interacting with a wireless and personal AR experience.
Reflectance Transformation Imaging: Generating Digital Representations of Cultural Heritage Objects
Cultural Heritage Imaging: Mark Mudge (President), Carla Schroer (Founder, Director), and Marlin Lum (Imaging Director)
March 5-8, 2012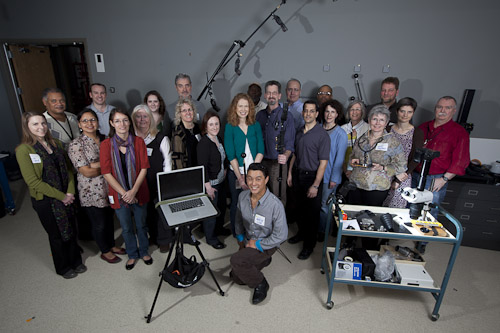 Photo by Marlin Lum
Thanks to a generous grant from the Institute for Museum and Library Services (IMLS) 21st Century Museum Professionals grant program, Cultural Heritage Imaging (CHI) is able to deliver 10 training sessions across the US on Reflectance Transformation Imaging (RTI). These sessions introduce both emerging and established museum professionals to state-of-the-art imaging technology through a series of workshops, reaching over 150 participants. The participatory workshops provide training in RTI and other new technologies based on digital photography. The project results in freely available tools and training materials for dissemination to the broader museum community.
In each 4-day training session, the CHI team used lectures, demonstrations, and hands-on class participation to teach Highlight RTI. This is a very flexible, low-cost imaging method that relies on standard digital camera equipment, lighting, and a few small tools that are used to measure light reflectance. The software is available as open-source software. Participants were able to return to their home institutions with all the knowledge necessary to use RTI technology successfully, along with the relevant software and instructions.
Through the application process, CHI was able to include conservators and allied professionals from a variety of organizations and with a range of different specializations, skill sets, and levels of experience. Applications from pairs of individuals who work together is always encouraged, since RTI is most successfully accomplished through teamwork. Because of the hands-on nature of the training, enrollment in these training sessions was limited to 15.
CHI has conducted similar training sessions at the Worcester Art Museum, Museum of Modern Art, the Metropolitan Museum of Art, and at several international venues. In addition to sponsoring four museum-based training sessions, the IMLS is also supporting RTI training for the six members of the Association of North American Graduate Programs in the Conservation of Cultural Property. Text from CHI's website.